Driving a car? There's an app for that
Griffith University researchers build Android-piloted car
---
Researchers at Australia's Griffith University have built an electric car that can be driven, without human intervention, by software runing on an Android smartphone.
Dr Jun Jo of the University's Institute for Integrated and Intelligent Systems said the car, built by students from Helensvale State High School, tests the viability of autonomously-controlled vehicles and schemes that he hopes will see cars shared among multiple drivers.
"What we propose is that in the future cars will be shared between many people instead of being personal property so we won't spend so much on cars," Dr Jo said.
Autonomously-controlled cars are an important part of that vision because, in Jo's vision, shared cars become more useful if they arrive when you need one.
"Automatically-driven cars will wait near your house or office. They'll knows your schedule and will arrange all the bookings in advance" he suggests.
Once such cars arrive, users will dock their phones (facing forward so their cameras can see the road) to assist with navigational chores.
Alert Reg may at this point be wondering how a car powered by a smartphone will make its way to a user without the smartphone on board. Dr Jo's answer to that question is an on-board PC that performs all the same control functions as the smartphone and also serves as a backup unit once a phone and its owner clambers aboard.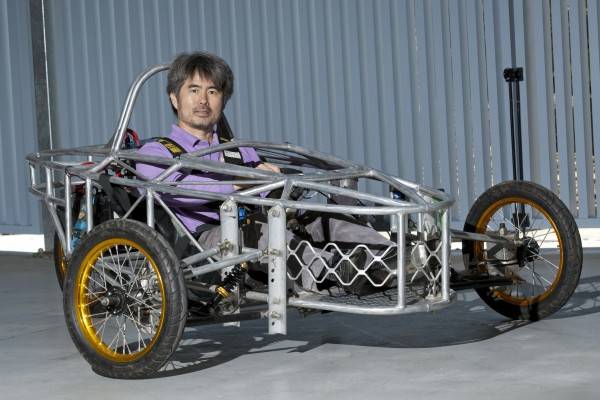 Dr Jun Jo in Griffith University's experimental Android-driven car
Dr Jo's test vehicle sees the smartphone connect to the onboard PC by USB. The PC then connects to the rest of the car's systems through serial interfaces. The phone's camera, GPS and gyroscopic sensors are pressed into navigational service, along with onboard radar.
The presence of a user's personal device will also, Dr Jo envisions, mean that instead of relying on generic routing future cars will be able to drive in ways their users prefer. "The phone is more personalised and knows where to go, preferred driving styles and shortcuts," he explained.
The car pictured above is, Dr Jo told The Reg, several months away from trials on the open road or amid traffic, as many systems need to be tested to ensure safety. But the car has already survived tests on an empty basketball court.
Dr Jo hopes that future enhancements mean the car can move beyond that environment. He also hopes to move beyond wired control, with Bluetooth or ZigBee his hoped-for method of communicating between autonomous vehicles' components and controllers. ®