This article is more than 1 year old
Not in China? No shrunken IBM Storwize array for you
Covert move by Big Blue
IBM has stealthily released a smaller version of its StorWize V7000, the V3500, restricting its sale to Taiwan, mainland China, Hong Kong and the Chinese territory of Macau. Big Blue hasn't explained why the handy little V3500 won't ship outside of PROC and ROC*.
The Storwize V7000 is a mid-range block storage array using SAN Volume Controller (SVC) software and an XIV-style management GUI. The kit complements, and may ultimately replace, IBM's long-lived mid-range DS5000 array. The company added data compression functionality in June to increase its storage efficiency.
An all-flash StorWize V7000 delivered comparable performance to that of an Oracle ZFS array in an SPC-1 benchmark, but at under half the price and just 4 per cent of the capacity. IBM added SONAS-type filer head functionality to the Storwize line with the V7000U to create a unified file+block storage box.
IBM V3500 documentation says it's designed to complement IBM's DS3500. The thing comes as a single V7000 with dual controllers in a 2U enclosure with either 12 x 3.5-inch disk drives or 24 x 2.5-inch ones. The maximum capacity is 3TB. It has all the V7000 thin provisioning, disk tiering, flash copy protection, RAID and virtual storage pool goodness.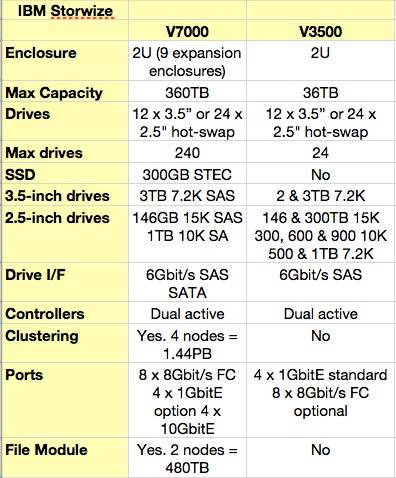 The V3500 seems to be a V7000 with no expansion, no SSD, no clustering and no filer head support. IBM states;
Storwize V3500 is intended for customers for whom cost is a primary decision factor and who have limited requirements for storage function and growth capability.
IBM is not releasing it outside the Chinese geography. Other countries in the Asia Pacific region, such as Japan and New Zealand, won't get it, and nor do any other IBM regions. We've asked IBM why and Big Blue is looking into it. The box has a three-year warranty, will be available in the China geographies from 14 September and we don't know its price. ®
*The People's Republic Of China (the mainland and its special administrative regions, Hong Kong and Macau) and the Republic Of China (Taiwan).