This article is more than 1 year old
LOHAN sets clock ticking for explosive climax
Just what our mission control board will do, and when...
Work is proceeding apace on our Low Orbit Helium Assisted Navigator (LOHAN) "Swift" control board, as recently unveiled to an astounded world.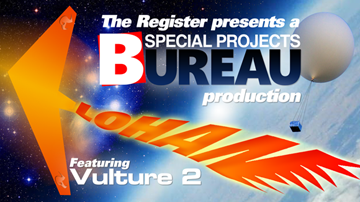 Anthony Stirk and Neil Barnes are beavering away at assembling the board and tackling the coding, respectively. Earlier this week Anthony got the GPS chip on the Swift up and running - the vital component which will ultimately be responsible for firing the Vulture 2 spaceplane's solid rocket motor.
As we reported last week, the Swift (pictured below) is a potent device, packing the tried-and-tested uBlox MAX-6 GPS, BMP085 Pressure Sensor, a couple of radio modules, APRS (Automatic Packet Reporting System) capability and no less than three temperature sensors plus five general purpose input/outputs (GPIOs).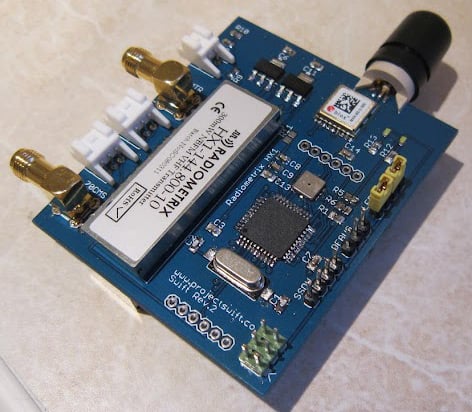 After some discussion, we decided to add an accelerometer to the package, to help us detect balloon burst. This will, in parallel with the GPS – which can also obviously be used to detect drop in height – act as a failsafe ignition trigger in the event of premature balloon burst.
Or rather, they'll act as a failsafe if it's absolutely necessary to launch the Vulture 2 without further ado. We'll have two meteorological balloons for the LOHAN mission, so if something goes awry on the first flight, we have the option for a second.
If the first flight is a bust, we'll recover the Vulture 2 along with the fantastical flying truss, and give the thing another pop.
This impacts on the Swift rocket motor ignition parameters, which are pretty self-explanatory:
Arm ignition system at 60,000ft (18,300m).
Fire rocket motor at [classified].
First launch: In case of premature balloon burst, as indicated by accelerometer and/or GPS, abort launch.
In case of abort, or ignition failure at launch altitude, ignition system safety shutdown after two hours, or when altitude falls below 40,000ft (12,200m), whichever comes first.
Second launch: In case of premature balloon burst, as indicated by accelerometer and/or GPS, fire motor immediately.
The Swift is also tasked with data logging and radio transmission duties. Neil has expressed concerns that it might huff and puff under the workload, but we can if necessary use a second board to spread the weight.
We'll find out just how the Swift copes when it's ready for some full-fat testing, so watch this space for further developments... ®
Further LOHAN resources: