This article is more than 1 year old
Storage crumblies, newbies race to push out flashiest gear
HDS, NexGen and Pure Storage announce new kit
The flash storm among storage vendors is becoming more frenzied with a major announcement from HDS, the addition of iSCSI support by Pure Storage's flash arrays, and a performance guarantee from flash/disk hybrid iSCSI array startup NexGen, along with Veeam and vCenter support.
HDS has developed its own flash storage controller and will be using it to roll out a series of flash storage products at various locations in the networked storage-to-server stack. Instead of buying in flash memory management controller technology, parent Hitachi has developed its own, much as it developed its own USP then VSP high-end storage array controller hardware and software.
HDS claims its flash products will be faster, more scalable and hold more data than flash products in existence today. Roberto Basilio, Infrastructure Platforms Product Management VP at HDS, said:
Hitachi realised that the best way to incorporate flash media across the entire IT stack was to develop solutions based on original Hitachi intellectual property. This development strategy yields the performance and end-to-end data management capabilities our customers require. The new flash memory controller designed by Hitachi lets us bring to market a series of products designed from the ground up to accelerate computing for big data and mission-critical applications and databases. These uses require real-time processing, enterprise robustness, security and a small environmental footprint.
HDS says the controller has a high write performance level and provides long-lived flash endurance. The coming flash products will be for servers, storage and appliances to accelerate applications, provide caching and high-performance storage. In particular HDS says the controller will have:
4 x sustained throughput of current MLC flash SSDs;
five years' endurance for enterprise workloads;
in-line block zero compression; and
secure erasability.
With good MLC SSDs offering 550MB/sec and 500MB/sec for sustained read and write operations, the HDS controller should have a 2.2TB/sec and 2TB/sec sustained read and write bandwidth level.
Application areas include indexing, OLTP databases, decision support, email and virtual desktop infrastructure (VDI). Here is a functional schematic of the controller: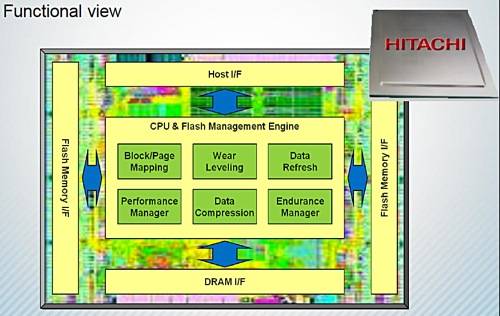 HDS's CTO Hu Yoshida blogs: "Features like HDT (Hitachi Dynamic Tiering) can optimise the use of flash by moving only the hot pages of a volume into a flash tier while the cold pages migrate down to lower cost HDD tiers. In addition, HDP (Hitachi Dynamic Provisioning) increases durability by providing global wear levelling, which supplements the wear levelling within the drives to avoid hotspots."
VSP flash acceleration
The company has also announced a flash-based acceleration function for its VSP array, enabled through a licence key, taking it beyond the 1 million random read IOPS level, three times current VSP performance. The array responds to IO requests 65 per cent faster and typical OLTP workload users could see twice as much performance on average.
HDS says the feature provides:
express host processing;
increased flash media throughput with higher thread count scalability;
improved wide striping scalability for disk drives
increased virtual storage director random throughput;
lowered IO response time,
Eliminates IO latency from SAN storage.
Virtual machine density with a VSP can be doubled. HDS says an all-flash EMC VMX 40000 does 810,000 IOPS, about 20,000 less than a flash accelerated VSP.
Yoshida said about this: "With more than 24 threads running against an all SSDs configuration we have measured 1,000,000+ IOPs using 8K random reads. … Overall, the total maximum throughput of VSP with V04A and flash acceleration will exceed 1,000,000 IOPS."
He thinks that cost/GB of flash could become lower than that of disk:
Most analysts are saying that the price erosion for HDDs have slowed to about 20 per cent per year from the historical trend that was about 40 per cent per year over the last 50 years. At the same time they are predicting that the price for MLC (multi-level cell) flash drives is declining by about 40 per cent per year due to the increasing volumes driven in the consumer space for smart phones and other mobile devices. … At this rate we can expect to see MLC flash become cheaper than performance-optimised HDDs in the next five to seven years.
This feature is available to new customers today, as well as to existing VSP customers through a microcode update to V04A.
The next items on the HDS flash product roadmap are shown in the slide: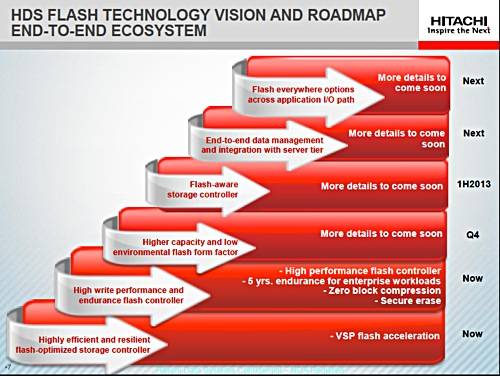 We can expect to see a Hitachi/HDS PCIe SSD, an all-flash array, a flash cache for direct-attached server disk storage, and an external SSD appliance in both the SAN and NAS areas. VSP arrays will use the flash technology to cache disk drives and as a tier.
Hitachi engineers have been working on the flash controller for well over a year and this represents a solid and sustained internal development that could provide strong competition to every other PCIe flash, all-flash array and hybrid flash/disk drive array vendor, especially if the throughput claims live up to their billing.
Pure Storage revs software
Version 2.5 of all-flash array startup Pure Storage's Purity software adds in Ethernet iSCSI access to the original Fibre Channel block access. This will increase the markets its channel partners can address, enabling them to go for business from the customers that Dell/EqualLogic and HP/LeftHand go for.
It also adds in ZeroSnap snapshots that can be taken at a rate of 1,000/minute – pretty near continuous data protection. These have no performance overhead and are just new volumes with full capabilities and zero data duplication. Pure says customers can instantly roll forwards ir backward and recover any volume from any snapshot.
The company has also added a vCenter web client plugin so vSphere can be used to manage its array.
Its getting VMware Ready and VAAI certification, and this software release will be seen at VMworld in San Francisco next week, and ship in the autumn.
Pure suggests that its array is positioned to compete against EMC's coming Thunder shared flash cache and Xtremio flash storage tier box: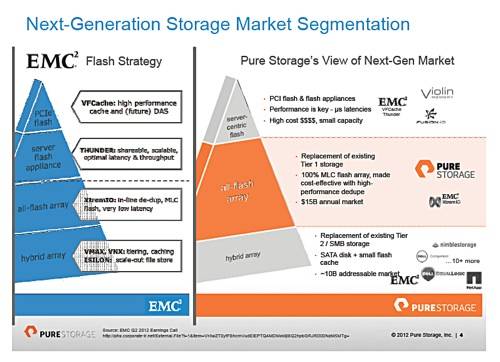 The Pure Storage array replaces, it says, existing tier 1 disk drive storage, because it is much faster and affordable and cost-effective, less costly than tier 1 disk arrays in fact, through its use of deduplicated MLC flash drives. Pure is not in the hybrid flash/disk drive array business like Nimble Storage, Tegile and others which is geared to replace tier 2 disk drive arrays.
NexGen issues performance guarantee
Startup Nexgen, which sells the hybrid flash+disk, iSCSI-accessed n5 array, has issued a performance guarantee, which promises:
10 times more IOPS per U of rackspace than a disk drive array;
three times more IOPS per U than conventional hybrid arrays; and
three times more capacity per U than all-flash arrays with equivalent performance.
If you don't see the improvements over your existing storage with Nexgen's n5-150, NexGen provides a performance or capacity upgrade at no cost.
NexGen has 7,200rpm disk drives in the front of its enclosure with processor/PCIe bus/SSD combinations behind them and not layered on top – so it's pretty space-efficient.
Compared to disk drive arrays, what are we saying? A rack enclosure of flash delivers a whole lot more IOPS than a rack enclosure full of disk drives? Well, duh, that's obvious. You guarantee your Ducati motorbike is faster than my UPS truck and takes up less space? There's a surprise. That doesn't seem a good guarantee.
To get the same n5 performance from a conventional hybrid array you'd need to buy one with a three times bigger enclosure in rack height terms, the firm says. What's a "conventional" hybrid array? It's a blend of SSDs and disks in an existing storage architecture. Oh, I get it, "existing" storage architecture as in: rule out start-ups like Tegile and Tintri. That doesn't seem that good a guarantee either.
Compared to all-flash arrays you will get three times more capacity per U. Let's think of Skyera's Skyhawk which offers 44TB in 1U. Then there's the Nimbus Data Gemini with 48TB in 2U.
The n5-150 offers 192 raw TB and 48 usable TB in a 3U enclosure; that's 16TB/U usable and 64TB/U raw capacity. In usable terabyte terms both Nimbus's Gemini at 24TB/U and the SkyHawk at 44TB/U are better. In raw capacity terms NexGen's numbers don't work either, needing to be 132TB/U for Skyhawk and 72TB/U for the Gemini.
Do they have equivalent performance? The n5 offers 150,00 IOPS using 4K blocks in a 50:50 read/write mix. Nimbus's Gemini offers 1,200,000 similar IOPS, eight times faster. Guess that's not comparable. Hang on, we have to find an all-flash array that only offers 150,000 IOPS and has more than 64TB/U? Come on, an all-flash array only offering 150,000 IOPS? These days? The older ones like Nimbus's first S-class maybe, but the newer ones are way past 150,000 IOPS.
Is this worth the paper it's printed on? It certainly seems to be a way of differentiating NexGen from other hybrid array suppliers, both fellow start-ups like Tegile and Tintri, and trad Johnny-come-latelies like NetApp and EMC but it's of little use against all-flash arrays unless you want one limited to 150,000 IOPS.
In other news, NexGen and Veeam are partnering to have Veeam's Backup and Replication included with NexGen arrays at no extra cost. Existing storage arrays can be used replication targets.
A vCenter plug-in is coming so the NexGen array can be managed and monitored through vSphere and datastore quality of service can be defined and changed on the fly. The Veeam and vCenter features can be seen at VMworld in San Francisco's Moscone Center next week. ®