EMC shows off XtremIO's Project X box
Enters the million-IOPS club with all-flash array
---
VMworld 2012 EMC has shown off an early version of the all-flash array it acquired when hoovering up XtremIO earlier this year.
Project X, as the array is known for now, has been revealed as a 4U tall beast that packs not one but two controllers, described by re-badged XtremIO-ers as "basically Intel servers". Each packs a pair of un-named Intel CPUs, so that each of the drives in the unit have almost all of a core's power dedicated to their every whim.
As previously foreshadowed by The Reg, the all-MLC flash arrays also offer four eight-gig fibre channel ports and the same number of ten gig Ethernet connections. Up to eight of the machines can be clustered, thanks to Infiniband, but each time you add another box you need to buy the whole rig, controllers and all. That's expensive, but EMC says it's necessary to keep IOPS and capacity scaling together.
The array has deduplication baked in and during the demo we witnessed claimed 2600% dedupe rates. The dedupe is global, inline, always on and is said to extend SSD lifespans by reducing the rate of writes to each drive.
The software responsible for those tricks, like everything else in the boxes, comes from the XtremIO side of the house: no legacy EMC code pollutes Project X's innards. That could leave sceptics to wonder about the quality of Avamar and the dedupe code residing in Data Domain kit.
EMC won't have your thoughts drifting in that cynical direction. The message is that to build a proper flash array with thin provisioning, snapshots, and all the whistles and bells you would expect to find in a "proper" array (subtext: all those other flash startups are toys) one needs to rebuild everything from the ground up. And yes, the Project X box does have thin provisioning and can do snapshots.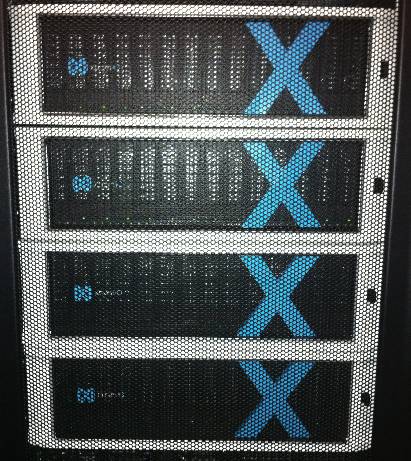 EMC XtremIO's Project X all-flash arrays in an attractive rack with a mesh door
The presence of those features means EMC is keen to portray Project X as a mainstream array capable of doing anything a mainstream array does, just with hot sand inside rather than spinning rust. To that end the company demonstrated a cluster of four X-bricks, as the arrays are each known, humming along at 400,000 IOPS when performing OLTP queries, and a cool million IOPS when performing random reads.
Virtual desktop infrastructure is a hoped-for customer magnet, and seems a decent chance of proving so as the demo also featured 100 virtual Windows desktops being awoken in under ten seconds. That awakening is even more noteworthy because the VMs were dormant, not booting up.
The ability to suspend VMs has been enabled thanks to the arrays' speed, as EMC feels that suspending many virtual desktops simultaneously slams a conventional SAN as it is asked to write all the systems' RAM to spinning rust. With only flash to worry about, the company feels would-be VDI users can expect a better experience.
The price of the new machines was not disclosed or even discussed, but a likely release date of somewhere in the first half of 2013 remains on EMC's agenda. ®