This article is more than 1 year old
Didn't know THAT could go in THERE: EMC dedupes server flash
VFCache working with vMotion
EMC is adding to its server flash cache arsenal by adding deduplication to its VFCache product, thus enabling it to hold more data, as well as adding a larger capacity card, and making VFCache interoperable with vMotion. According to EMC, this is the first time deduplication has been used in server flash caches.
Server flash cache, as pioneered by Fusion-io, involves a PCIe-connected flash card or solid state drive (SSD) being used to cache read I/O request data from network storage arrays and so get rid of both disk drive and network latency, dramatically shortening read IO access times. IO-bound applications can run faster and servers can host more virtual machines (VMs).
EMC's VFCache write-through caching product uses either LSI or Micron PCIe flash cards. It is a local resource for a server, provisioned to a VM, and has to be disabled for vMotion (a move of a VM from one server to another) to take place. EMC's Project Thunder is a server area networked cache involving a collection of VFCache cards in a box. Project X is a networked flash storage array, using acquired XtremIO technology, that is a tier of storage and not a cache.
It's typical for all-flash arrays to add deduplication, the removal of duplicated chunks of data, to increase effective capacity and drive down the cost/GB. But, EMC asserts, up until now deduplication has not been used in server flash caches. Reasons include the use of server host CPU cycles and low rates of duplicated data chunks compared to, say, backup data or VDI with its multiple copies of desktop images. The higher the deduplicaton ratio, the more effective capacity a VFCache card will have. A 20 per cent dedupe ratio turns a 300GB card into a 360GB one.
The dedupe in VFCache 1.5 is "fixed-block 8K dedupe, enabled or disabled on a per-card basis," according to EMC's Chuck Hollis.
VFCache v1.5 supports more than one PCIe flash card per server; EMC hasn't provided an upper limit, and the flash cards can now have up to 700GB of capacity, up from a previous limit of 300GB. EMC says the IO latency of the VFCache cards has been lowered by tuning the caching algorithms.
The effect of dedupe and performance tuning can be seen with Exchange 2010: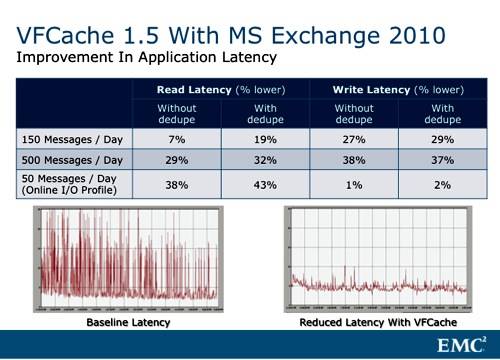 VFCache now interoperates with vSphere vMotion and supports the live migration of VMs between servers. There is a VSI plug-in for vCenter. EMC says it "ensures business continuity with no system downtime when migrating operations." VMware admins can do other things when this is going on.
The VFCache product has been developed in preparation for integration with EMC's high-end VMAX storage array products. The idea is to give VMAX admins information about which specific LUNs are using VFCache, more performance statistics, and error reporting. The integration of VFCAche with the VNX arrays will be enhanced next year and that effort will extend to other EMC storage arrays such as – probably – the Isilon scale-out NAS products. EMC aims to include VFCAche as a server end-point in its FAST (Fully-Automated Storage Tiering) scheme, providing end-to-end storage array to server flash cache data placement and movement.
EMC is adding VFCache support for the coming customised LSI Nytro WarpDrive PCIe mezzanine flash cards integrated with Cisco's UCS B-Series blade servers. These will come with 400GB and 800GB capacities. There is support for active/passive clusters with Windows 2008 R2, native RHEL, Symantec Veritas and SIOS SteelEye.
The server flash cache area is a hotbed of activity, with NetApp having announced its Flash Accel technology, and Virident and SanDisk partnering so that the latter's FlashSoft caching software supports Virident's FlashMax PCIe flash cards. That partnership includes co-marketing, sales cooperation, joint testing and validation programmes, and support and services assistance. The two say that coupling Virident hardware with FlashSoft "can accelerate the performance of certain Microsoft SQL Server workloads by nearly 700 per cent versus storage based on a hard disk drive array."
The new features of VFCAche are available immediately. We should see active/active cluster support, with distributed cache coherency next year together with the FAST data movement integration upgrade. ®