Arctic ice shrinks to 'smallest in satellite era' - NASA
And summer at the North Pole is not yet over
NASA has tossed its coin into the "shrinking Arctice sea ice" kitty with images showing that on August 26, "sea ice dipped to its smallest extent ever recorded in more than three decades of satellite measurements".
Noting that the 2012 melt season could still have weeks to run, the NASA measurements compare the August 26 extent to the long-term average minimum from 1979 to 2010. This year's so-far-minimum "broke the previous record set on Sept. 18, 2007", NASA states.
The numbers: the latest measurement showed the sea ice extent at 4.1 million square kilometers, nearly 1.7* per cent below the 2007 minimum of 4.17 million square kilometers.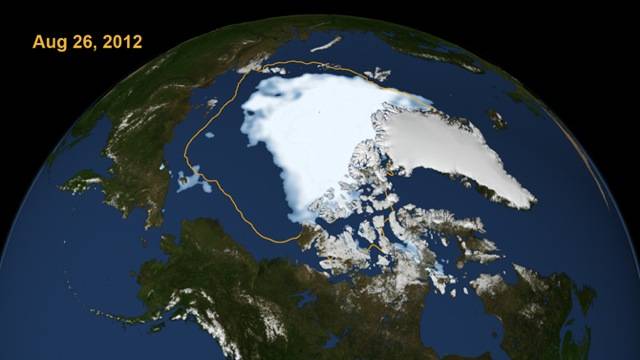 NASA visualisation of the August sea ice minimum compared to the long-term average
The ice loss doesn't mean an instant rise in sea levels. As Discover's Bad Astronomer Phil Plait points out, Arctic ice is "floating on the water, and in general when ice melts the water level stays the same."
Melts on land would have a greater sea-level impact; the Arctic, however, provides a handy yardstick for the climate.
Discussing the data, Joey Comiso at Goddard says the Arctice temperatures this summer are cooler than when the 2007 record was set. This, he says, suggests that the thick component of the Arctic's normal ice cover is suffering. As a result, the ice that remains is more vulnerable to a faster summer melt. ®
Bootnotes
Thanks to everyone who caught the misplaced decimal in "17 per cent" in an earlier version of this story, which also suggested that winter was not yet over. Although readers in the northern hemisphere are experiencing summer to some degree or another, it is still winter in Australia where Reg man Richard Chirgwin writes from. The Arctic is in its summer season.