RIP Neil Armstrong: The reluctant American hero
Tributes to the first man to walk on Moon
---
Obituary Neil Armstrong, the first man to walk on the moon, died aged 82 on Saturday after complications from heart surgery.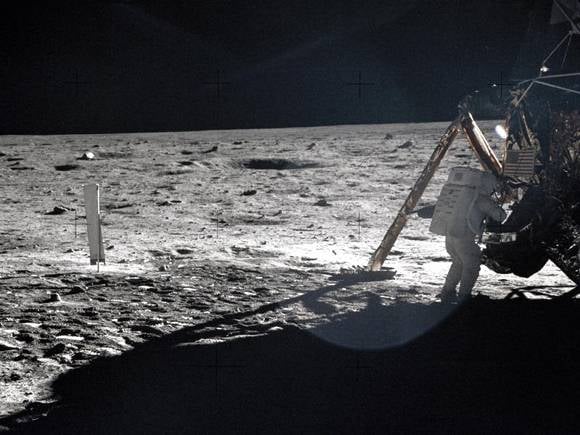 Armstrong on the Moon during the Apollo 11 mission
The American astronaut and ace test pilot - born on 5 August, 1930 in Ohio - was best known for the 1969 lunar landing and moonwalk. His immensely dangerous adventure was, in his own unforgettable words, "one small step for man, one giant leap for mankind". Flags across the US will fly at half-staff on Friday, the day of Armstrong's funeral, in honour of his achievements, the White House confirmed.
"Neil Armstrong was a hero not just of his time, but of all time," President Barack Obama said. "Thank you, Neil, for showing us the power of one small step."
Armstrong was a naval aviator from 1949 until 1952, before he joined the National Advisory Committee for Aeronautics, the precursor to NASA, in 1955. For the next 17 years, he was an engineer, test pilot, astronaut and administrator for the agency, flying many pioneering high speed aircraft, including the 4,000mph X-15. He also gained an aeronautical engineering degree from Purdue University, and a master's in aerospace engineering from the University of Southern California.
During his time with the space agency he flew over 200 different models of aircraft, including jets, rockets, helicopters and gliders, experience that would stand him in good stead during his missions in the 1960s.
Armstrong was selected as an astronaut in 1962 and his first space flight was Gemini 8 in 1966, aboard which he became the first civilian to fly a US spacecraft and was its command pilot. Armstrong and fellow astronaut David Scott performed the first docking in space, berthing Gemini 8 with an Agena satellite.
The mission started to go a little less smoothly after the docking, when Gemini 8 started an unplanned rolling motion while attached to the satellite. After undocking, the rolling got worse - one of the 16 thrusters was stuck open because of an electrical short circuit.
Armstrong used the reentry thrusters to regain control over the ship and managed to stabilise the craft after 30 minutes. Having used the reentry thrusters, the crew had to return to Earth and land at a contingency site.
His next mission was Apollo 11, which launched for the Moon on 16 July, 1969 carrying Armstrong, Buzz Aldrin and Mike Collins.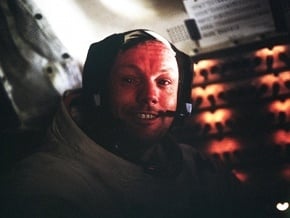 A teary eyed Armstrong aboard the Eagle after his moonwalk
Collins stayed onboard the capsule while Aldrin and Armstrong went down in the lunar module Eagle to land on the surface. Here too, Armstrong had to fly when the Eagle's autopilot tried to land in a boulder and crater-strewn site after overshooting the planned landing zone by four miles.
Fuel was running out and there was no chance for a second attempt, leaving it up to Armstrong to fly the craft in search of a smooth landing that was eventually made with warning lights glaring and less than thirty seconds of fuel remaining.
"Houston, Tranquillity Base here. The Eagle has landed," Armstrong told a tense Mission Control.
Armstrong and Aldrin spent about two hours exploring the Moon, gathering over 50 pounds of moon rocks and setting up three scientific experiments before returning home the next day. Following 16 days of quarantine, the crew went on US and international tours, where millions greeted them as heroes.
Armstrong went on to work as deputy associate administrator for aeronautics in the Office of Advanced Research at NASA, before retiring from the agency in 1971.
He taught at the University of Cincinnati from 1971 to 1979 and later went into business, working as chairman of Computing Technologies for Aviation in Virginia and then chairman of AIL Systems in New York.
Armstrong is survived by his wife, two sons, a stepson, a stepdaughter, ten grandchildren and his brother and sister. The family described his as a "reluctant American hero who always believed he was just doing his job".
"He served his nation proudly, as a navy fighter pilot, test pilot, and astronaut. He also found success back home in his native Ohio in business and academia, and became a community leader in Cincinnati," they said in a statement.
"While we mourn the loss of a very good man, we also celebrate his remarkable life and hope that it serves as an example to young people around the world to work hard to make their dreams come true, to be willing to explore and push the limits, and to selflessly serve a cause greater than themselves." ®