Samsung Galaxy Note 10.1 Android tablet review
Stylus over substance?
Remember your first touchscreen? If it was a personal organiser or satnav, chances are it used a pressure-sensitive, resistive screen. If it was a Palm, you probably had a stylus to pick out letters onscreen. The arrival of capacitive screens that responded to human touch certainly made an impression and now account for nearly all smartphone and tablet touchscreens. What was the point of stylus now?

Point taken: Samsung's Galaxy Note 10.1
So here's Samsung's latest. With a stylus. Don't worry, it's still a capacitive screen, with the pressure-free interaction and better image quality that capacitive offers. Like the Samsung Galaxy Note, this uses a specially designed stylus, the S-Pen, to interact with the suitably modified screen. The S-Pen is the Note 10.1's USP, but otherwise this tablet looks like the recent Galaxy Tab 2 10.1. Just like it, in fact, though the Note is wider and taller.
Samsung is doing its best to differentiate its tablets from the look of its competitors'. The white edge that surrounds the display has a silvery, curved edge frame that is noticeably different from the iPad – you couldn't mistake the two. Because this tablet is slim and largely made of plastic, it's very light, too. The same applies to the slightly older Tab 2 10.1.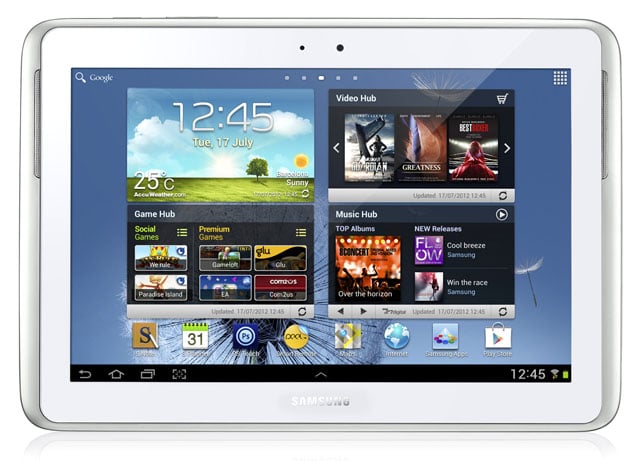 No match for a Retina display, but it's still a very respectable screen
The specifications are different here, though, with the Note 10.1 sporting a more powerful processor (1.4GHz quad-core, up from 1GHz dual-core) and extra RAM, doubled to 2GB compared to the Tab 2 10.1. The screen is unchanged with a 149ppi resolution on the 1280x800 10.1in display. Way less than the iPad's 264ppi Retina Display, then.
Don't write this Note off, though, it's bright, contrasty and highly attractive. Movie playback tests with Green Lantern, looked sharp and vibrant, not to mention quickly immersive. The sound comes from two front-facing speakers (it's stereo, Apple please note) and sounded pretty decent, though obviously limited in its bass or volume.
Quad-core CPU takes the cake in the AnTuTu rankings
Unlike the Samsung Galaxy S III, this machine has no front-facing home button, so you have to reach up to the top edge to wake the screen. Good design, or a desire to avoid more lawsuits from Apple? Regardless, the button is easy to find.