Double vision
Best of all, the stylus is involved in a clever Samsung addition: split screen. When you launch the web browser, say, a Multiscreen option appears in the top right of the display. From here you can choose to range your open window alongside Polaris Office, S Note, Video Player, Gallery or Email. The display presentation divides neatly in half to show both.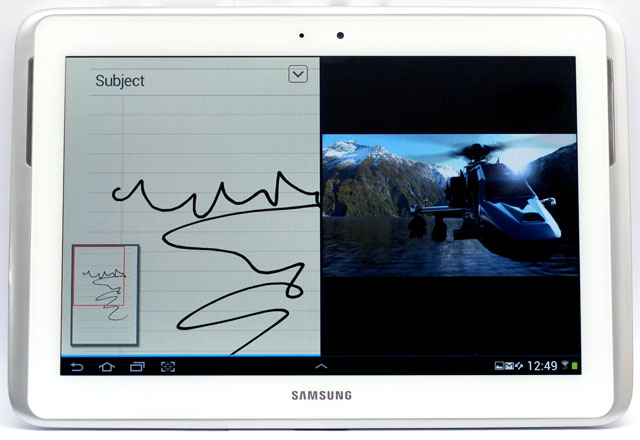 Split the difference: take notes on what you're viewing or browsing
The splitscreen viewing is great if you want to scribble notes based on your web surfing or whatever. It works well and has more uses, so that if you have video playing you can shrink it to a picture-in-picture size to watch it while you do something else as well, like checking your email. Though that's not really how the director intended it, you know.
There are other specialities on this tablet – like an IR blaster. Sony put this on its Tablet S, and it turns your tablet into a proficient wireless remote for your TV or other audio visual item. Like there aren't enough remotes in your living room already. And it takes a headline feature from the Galaxy S III – Smart Stay which checks every so often whether you're looking at the screen and if it can't see your eyes, it dims the display. A gimmick, but a cool one.
This tablet doesn't have quite the latest Android version. Ice Cream Sandwich is good, and the even better Jelly Bean will follow, though no date is set yet.
Verdict
So, really, is a stylus enough of a difference to make you choose this tablet over another? Actually, the more you use it, the more natural it becomes. And the nippy processor and extra RAM mean the Note 10.1 flies along very agreeably. The display is good, but not amazing. This tablet won't win over Apple-fanciers, or those who want the faux-laptop qualities of the Asus Transformer series. But it's smart, speedy and enjoyable to use. ®
More Tablet Reviews

Acer
Iconia Tab A510
Samsung
Galaxy Tab 2 10.1
Asus
Transformer Pad
Infinity
Android 4.1
Jelly Bean
Google
Nexus 7

Samsung Galaxy Note 10.1 Android tablet review
Quad-core 10in Android tablet with a pen for those who want to create on their slates.
Price:
£400 (Wi-Fi), £500 (WiFi + 3G) RRP