Telstra to extend reach of 4G network
Clickity click says big T, as it plans to reach 66% of Australia
---
Telstra has outlined plans to extend the reach of its 4G network, revealing today it will bathe "approximately two-thirds" 66% of Australia's population in fast wireless in the next ten months.
The population coverage claim needs to be read carefully in light of Telstra's explanation that the 1,000 new base stations it plans to deploy will be found in "Sydney, Melbourne, Brisbane, Adelaide and Perth." That will indeed mean that an awful lot of Australians can access 4G, but also means Big T is not so keen on taking the new network into places where population densities – and revenue opportunities – are lower.
The blog post talking up the expansion also notes, perhaps a little enigmatically, that "Our vision is that 4G will become the dominant mobile technology in the coming years." That's an innocent enough prediction, given the way of things in telco-land, but one that may also set minds pondering whether Telstra has pencilled in in a retirement date for the NextG network.
Fruity fanbois might also find broad lines to read between, given the allegedly imminent announcement of a new iPhone.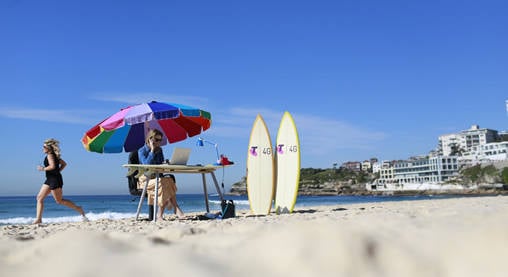 Surfboards ... fast internet ... 4G ... gedddit? Geddit?
For the time being Telstra is happy to talk up the fact that NextG and 4G combined mean just one percent of Australians are deprived of its mobile services.
The new 4G kit will, Telstra assures us, be switched on and beaming bits brightly by mid-2013. ®