This article is more than 1 year old
VMware: Our monster will eat servers, belch clouds, excrete profit
Grow or die like a minicomputer
VMworld 2012 The scribbled Monster VM logo that server virtualization and cloudy wannabe VMware started using last year as a joke may be the most appropriate and honest emblem that any IT vendor has pulled from its cosmic ether.
Because VMware and its papa EMC want to do nothing less than gobble all of the hardware in your data center and turn it into cloud computing systems, and trouser tens of billions of dollars over the next decade as a result.
When Paul Maritz took over VMware in the summer of 2008, after EMC chairman Joe Tucci showed VMware co-founder and CEO Diane Greene the door, server virtualization was well underway on x86 machinery in data centers.
Maritz had helped build Microsoft into an operating system powerhouse and was an engineer earlier in his career at Intel, so he knows systems. Six months after taking the VMware helm, he articulated his vision for VMware to Wall Street, and said his company was seeking to create was none other than a new kind of mainframe.
"When I talk to people over 45, I say we're building the software mainframe, the mainframe of the 21st century," Maritz said back in January 2009. "And they get all nostalgic and say that they always knew that this was the right thing to do instead of client-server. And when I talk to people who are under 45, I say that we're building the internal cloud."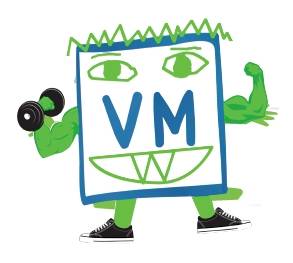 VMware's monster VM
VMware's view has expanded as the idea of mixing public and private clouds has taken off, at least in the imagination of IT execs and bean counters alike. The idea is still the same here in 2012, and VMware has taken several more steps closer to that 21st century software mainframe idea thanks to many acquisitions and plenty of internal software development.
There's a long way to go to virtualize networking, storage, and access to applications and to further improve server virtualization while creating layers of automation to keep it all humming - so don't think the job is done with vSphere 5.1 and vCloud Suite announced this week at the company's San Francisco extravaganza. But much progress has been made and Maritz had a few statistics during his keynote at the event on Monday.
"Back in 2008, we were asking ourselves what the hell it is," Maritz quipped when referring to the cloud. "And now we are asking ourselves how we can do it."
The progress of server virtualization on x86 servers, which represent the vast majority of installed machines for the past decade, is instructive, which is why Maritz trotted out some figures. Back in 2008, about 25 per cent of the workloads running on x86 servers were virtualized, according to statistics from IDC, and Maritz said that now in 2012, about 60 percent of the workloads on x86 iron were virtualized. And based on Gartner's estimates, VMware has about 80 per cent share of virtualized workloads, which means VMware has a 50 percent share of virtualization on x86 iron.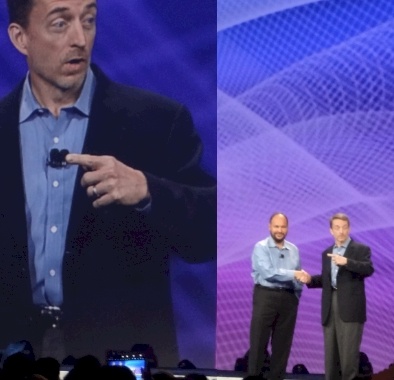 VMware's outgoing CEO Paul Maritz with incoming CEO Pat Gelsinger looming large
That's as good a share as any vendor can dream of, but this is not enough to feed the Monster VM beast, which is looking ahead to snack on more storage, networking, and end-user devices to feed its hunger for revenues and profits.
In fact, says incoming CEO Pat Gelsinger, who ran Intel's chip biz for years and who has been running EMC's storage business for the past three years, said in the keynote address at VMworld that the goal at VMware was to drive the share of workloads that were virtualized to 90 per cent or higher over the next three to four years, and that a workload running on a bare-metal server should be the rare exception.
To drive up the usage of server virtualization, VMware not only has to make hypervisors span larger iron (and grow virtual machines in concert as it has done for the past decade), it has to make it easier to create, deploy, and manage the collections of VMs and their virtual storage and networks that we call clouds. (Well, at least some of us do, even if we don't like the term much.)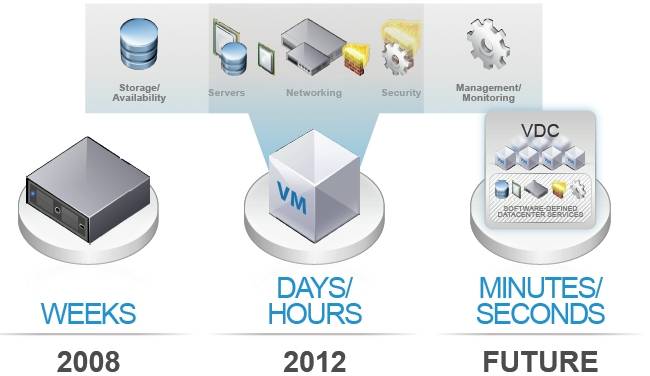 The progression from hardware to a virtual data center
It used to take weeks to months to acquire and provision a physical server, and with server virtualization you can get it down to days and hours, but that is not good enough, explained Gelsinger. You need to get provisioning to happen in minutes or seconds on a software-defined data center, which is the other way that VMware CTO Steve Herrod describes the 21st century software mainframe or the virtual data center operating system that VMware engineers have been building and buying for a decade.
VMware's vision has to be larger than this, of course, if it is to keep growing and profiting, and both Maritz and Gelsinger have been around long enough to have seen great changes in the IT business and they know that you don't get second chances.
"If you are in the EMC headquarters officers in Hopkinton, you get to see the carnage of the minicomputer industry," Gelsinger said, and it is clear that he doesn't want what happened to DEC and Data General in midrange systems to happen to VMware in with virtual servers and clouds.
That is also why VMware was willing to pay $1.26bn for network virtualization upstart Nicira last month even though it has what everyone presumes is a pretty miniscule customer base. It is also why EMC let VMware do the Nicira acquisition it in the first place. Because before VMware is done, EMC as we know it might be as irrelevant in terms of profit generation as a server or a switch maker. ®