A Canadian who adorned his request for a free phone with a sketch of a dragon, and received a kangaroo in response, has now been rewarded with a custom S III as Samsung spots some good PR.
The posting on Samsung Canada's Facebook Wall asked for a free handset and offered the sketch as payment. Samsung Canada wittily responded with a sketch of a kangaroo on a unicycle, to the delight of the Reddit crowd, who elevated the story to such an extent that Samsung Canada has now supplied the requested handset as well as customising it with the aforementioned sketch.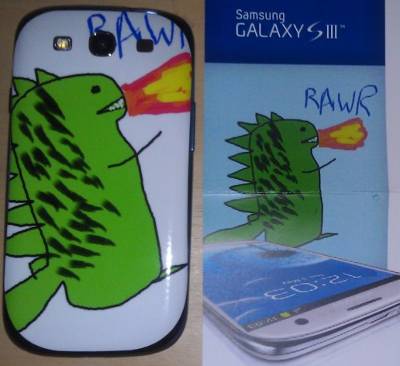 The lucky chap has more images and details on his own Facebook stream
Some were dubious about the idea that a straight-laced corporation would be so impressed with a crudely drawn dragon that it would sketch a unicycling marsupial, but the response is far from unprecedented, even if the upgrade to a physical handset takes the gratitude up a notch.
It's easy to forget that large companies are comprised of small people who have just as much humour and sense of whimsy as the rest of us, from the legendary single cornflake (reportedly returned by Kellogg's in exchange for a burnt cornflake sent back under guarantee) to O2's deadpan responses to tweeted obscenity during its network outage, even M&S has been known respond with a comedy dinosaur in occasion.
Mostly such responses go unnoticed, perhaps raising a smile and providing some dinner party conversation, but now we have the internet everything can be shared and every whim exploited to maximum effect.
So Shane Bennett gets himself a unique Galaxy S III, and Samsung Canada's Facebook page becomes awash with badly drawn wildlife, but while one can hardly knock Samsung for making most out of the unexpected publicity one has to wonder how long it will be before PR outfits around the world are pitching whimsy as the next big thing. ®