Super-duper chip maker TSMC told investors it will stop exporting supplies to its number-two customer Chinese telecoms manufacturer Huawei from mid-September.
The move comes after the US government's Bureau of Industry and Security (BIS) announced strict rules that effectively cut Huawei, its chip design wing HiSilicon, and its numerous subsidiaries, off from a chunk of the world's semiconductor supply chains.
Fabs, including overseas ones like Taiwan-based TSMC, cannot ship any products crafted using American equipment and software to Huawei and its pals for US national security reasons – and you can assume some American tech is present in TSMC's fabrication process.
The chip maker's chairman Mark Liu said his organization hasn't taken on any new business from Huawei since mid-May, and will stop shipping Huawei-designed parts to the Chinese giant within the next two months, as per the US rules, which were left unchanged from a public consultation period that just concluded.
"We did not take any new orders [from Huawei] since May 15," Liu said in a conference call with investors. "Although the regulation just finished its public comment period, the BIS did not make a final ruling change. Under this circumstance, we do not plan to ship wafers [to Huawei] after September 14."
TSMC had no further comment for The Reg at time of publication.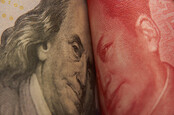 SMIC, SMIC, boom: China's homegrown chip foundry raises £5.27bn as it hits Shanghai Stock Exchange
READ MORE
Explaining the crackdown on semiconductor supplies, US Security of Commerce Wilbur Ross previously said: "We must amend our rules exploited by Huawei and HiSilicon and prevent US technologies from enabling malign activities contrary to US national security and foreign policy interests."
Back home, America is stepping up its domestic chip production efforts to minimize security risks inherent in overseas supply chains. It recently discussed the possibility of building more foundries on US soil with Intel, TSMC, and Samsung. TSMC announced it was going to build a $12bn chip factory in Arizona in May; it already operates one in Camas, Washington. Construction of the plant will begin next year, and is expected to begin production in 2024.
The loss of Huawei won't put too much of a devastating dent into TSMC's future financials as its other customers include number-one client Apple plus AMD, Qualcomm, and Nvidia. In its latest financial quarter, the three months to June 30, TSMC banked $4.1bn in profit, up 81 per cent, from revenues of $10.38bn, up 29 per cent.
The Taiwanese giant said demand for chips in 5G devices, network infrastructure, and high-performance computing applications will continue to increase, offsetting any effects from the loss of Huawei as a customer. ®
Similar topics