Flash tart Astute goes fourth and multiples your data
Chequered history for solid-state RAID array maker
---
Staff at storage biz Astute Networks are all smiles as they tout their fourth-generation all-flash array at VMworld 2012 - but behind-the-scenes, the company has had a chequered history.
Astute is headquartered in San Diego in southern California, not Silicon Valley, and is lead by CEO and president Steve Topper. It garnered $12m B-round funding in June this year, in which flash foundry owner Samsung took part.
Yet the fledging company was founded to accelerate TCP/IP network processing in 2000 by Roger Moyers, who became its chief operating officer, and Fazil Osman, its chief technology officer. They both came from Intel. A downturn put paid to their dream, and Astute entered the storage network protocol arena. Bill Atkinson became the CEO in 2003 - he'd been the big cheese of an earlier Moyers-Osman startup, XLNT, and replaced Tom Sennhauser at Astute.
Both founders are now long gone from the business. Moyers was the CEO from 2000, up until Sennhauser was appointed, and he is now COO at Scalable Network Technologies. Osman left in 2009 and is now director of cloud strategy at Broadcom.
Sometime between then and now Astute's purpose in life was changed and it focussed on building an all-flash array to accelerate virtual machine (VM) operations.
Following the June funding round, Steve Topper was appointed as CEO and president, replacing Bill Atkinson. Prior to the fundrasier Jay Kramer was vice-president for worldwide marketing and Steven Houk was the veep for worldwide sales; Houk is now DataCore's chief operating officer. Len Rosenthal is now the senior vice-president for marketing, and Steve Kucker is the sales veep; a wholesale executive makeover has taken place in the CEO, sales and marketing areas.
At this time we understand total funding has amounted to $53m: $16m in 2001, $15m in 2004, $10m in January 2009 and the aforementioned $12m.
Astute's latest array product is the networked and shareable ViSX G4 Storage Appliance, G4 denoting generation 4 because some of the core technology has been through four iterations of development. This core tech is the DataPump custom chipset that accelerates and offloads iSCSI and TCP/IP traffic processing. The box doesn't use Fibre Channel to link to servers because that's complex. Instead it relies on SCSI-over-IP transfers. The slide below shows the overall architecture: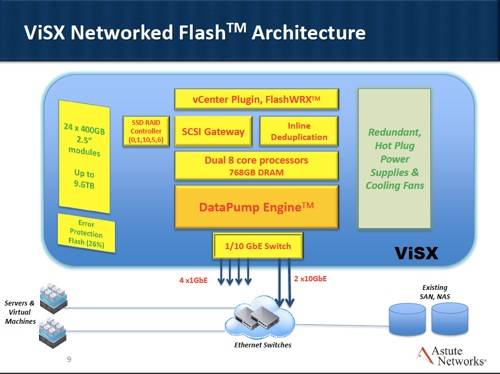 How to turn flash memory into a network-accessible blob of storage
It provides 140,000 sustained read IOPS per 2U enclosure, and comes in 2.4TB, 4.8TB and 9.6TB models using eMLC flash. The 2.4TB entry-level model starts at about $49,000. The box contains 24 bays for 400GB flash modules. It has two 10GbitE and four 1GbitE network ports, and does inline deduplication to increase its effective storage capacity.
Astute says it is pre-configured and ready to go once it's out of the box. Management is minimalist and it leverages VMware's vCenter. You rack it, plug it in, give it an IP address and off you go, vMotion'ing slow data stores to it, and watch them accelerate.
The company says it provides unprecedented $/IOPS and $/VDI for users, but doesn't provide any numbers or indicate how many virtual machines might be supported by the ViSX. This makes it difficult to compare with Tintri's hybrid flash'n'disk product that is also focussed on making VM IO more efficient. We imagine that the ViSX supports more VMs in a performance sense, but probably costs more per GB of capacity than Tintri's product. Tintri has customers running 800 VMs off its product and Astute may well exceed that number.
The ViSX G4 will be generally available in September. It's on show at VMworld in San Francisco. ®