'iPhone 5' released by Chinese Apple copycat
Goophone releases Android-based handset matching rumoured iPhone 5 look
Fanbois in China who just can't wait to get their hands on the much-hyped upcoming iPhone 5 are in for a treat, as an Android-based version of the device modelled on the imminent handset's rumoured specs has made its way online.
Yes, hot-on-the-heels of a Japanese fanboi's efforts, China's Goophone is hoping to steal a march on Apple before its eagerly awaited 21 September announcement with the new Goophone I5.
The device features the rumoured two-tone back design as well as a quad core chip, although exactly which type is unknown.
Rather disappointingly, given all the pre-iPhone 5 launch hype about a larger screen size, the I5 comes with a regular 3.5-inch display with 940 x 640 pixels. Maybe Goophone knows something we don't.
A 5 megapixel camera on the back and 1.3 megapixel snapper on the front complete the known specs. The phone runs Android but it's not clear exactly which version.
Pricing and availability remain a mystery, but the shameless shanzhai biz better get a move on, given Cupertino's imminent announcement.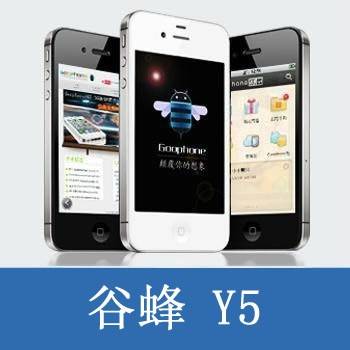 The Goophone Y5
For the record, Goophone has a proud track-record of ripping off Apple gear – its Goophone Y5 4S looking remarkably similar to the current version of the iPhone. ®