NASA launches armoured storm probes to the Van Allen belts
Survey of vast radioactive particle-Sargasso doughnuts
NASA has successfully launched two Radiation Belt Storm Probes into Earth's orbit to start a two-year mission to study the two giant donuts of plasma trapped in radiation surrounding the planet.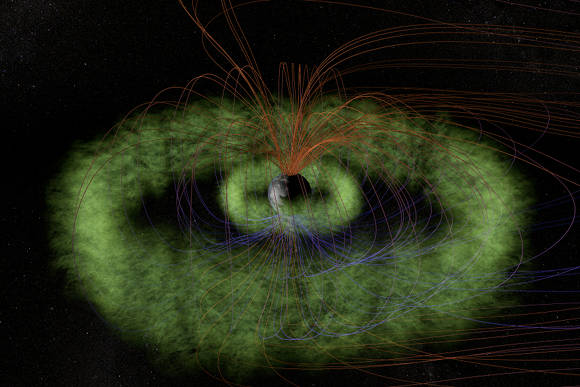 The heavily shielded satellites blasted off from Cape Canaveral at 9.05am BST this morning aboard an Atlas V rocket and were released one at a time from the craft's upper stage on different orbits.
The radiation belts around the Earth were first detected in 1958 by James Van Allen and were named after him. The belts have fields of plasma trapped inside them, which NASA hopes to study using the probes launched today.
The inner belt stays stable most of the time but the number of particles in the outer circle of radiation sometimes swells by 100 times or more, easily engulfing the communications satellites and research instruments orbiting Earth. To try to find out what makes the outer belt expand, boffins need to figure out what makes the plasma inside move in and out of the belts.
Plasmas usually flow along invisible magnetic field lines, creating their own magnetic fields as they go. If scientists can figure out how the plasma moves in space, they can use that data to understand space weather, solar flares and potentially damaging high energy particles.
"If you imagine having two buoys in the ocean, and one goes up, and comes down again, you don't know anything about what caused that to go up and down," Nicky Fox, deputy project scientist at Johns Hopkins University Applied Physics Laboratory said.
"If both of them go up, then you know you've got a very big feature that is affecting both of them at the same time. If you one goes up, then the other goes up, you can measure how fast that wave has traveled between them, and what direction it's going into. And if only one goes up and comes down again, then you've got a very, very localised feature that didn't travel anywhere.
"So in order to be able to really understand what is going on, these very fine-scale features in our radiation belts, we have two spacecraft to do that," she explained.
The twin probes are equipped with a range of science instruments to find out where the extra energy and particles come from, where they go and what sends them on their way, and how do these changes affect the Earth's magnetic environment.
The satellites have also been toughened to survive in the radiation belts, which are the sort of environment spacecraft normally try to avoid. Each eight-sided probe weights over 1,400 pounds with electric and magnetic field sensors sticking out on booms that distance the instruments from the craft, which could end up generating its own electric and magnetic fields.
The probes are also equipped with metal shielding and data filters to protect against interference.
As well as giving boffins data on the radiation belts, the probes will also help NASA build better spaceships, Fox said.
"We'll be able to protect [craft] better and we also won't do costly overdesign," she explained. "It will help us protect astronauts that are out in Earth orbit, and it will benefit the science community by giving us a lot more information about fundamental particle physics."
Now that the satellites are in orbit, they'll do a two-month commissioning period during which the ground team will run system checks before the probes can start collecting data. ®