Apple Mac OS X Server for Mountain Lion review
Playing god with an £14 app
---
The cost of Mountain Lion Server is a fraction of what Apple charged for its server software just a few years ago, especially if you look at the old 'unlimited client' editions of Mac OS X Server. Then, the software alone cost as much as a new Mac. Now, it costs as much as a Hollywood blockbuster on DVD, and it's far more useful.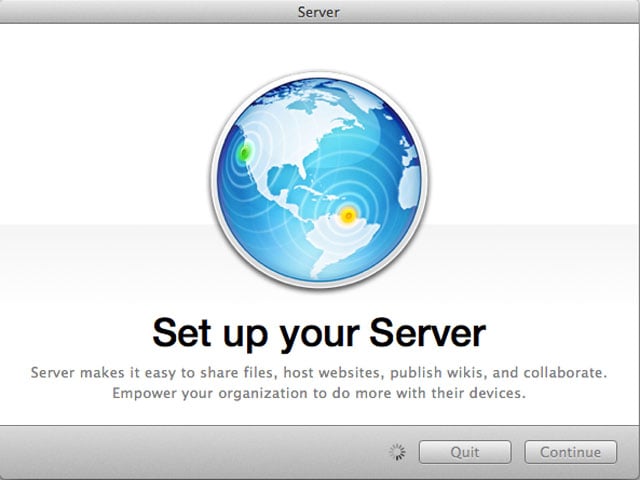 Got Mountain Lion already? Download Server from the App Store and away you go
It is also far easier to implement than older Server versions: as with last year's Lion Server, rather than being made up of a collection of separate applications wrapped up inside a special version of the Mac OS, this release comes in the form of a single application. Known prosaically as 'Server', it features a simple front-end management system for configuring the services you care to activate.
Best of all, it runs happily on a stock installation of Mountain Lion – no special server OS or arcane system alterations are needed to run Server. Replacing the old Server Admin application from previous versions, the Server app can be used to manage the host Mac or another Mac running Server elsewhere.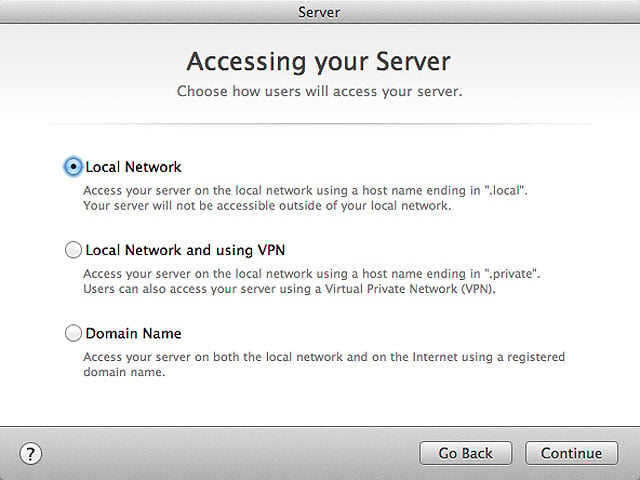 Some basics
Beyond machine admin choices, one of the first things you're asked when you run the Server app, is whether you want to enable push notifications so you're kept updated with system alerts and similar info. These are sent through Apple's servers and, to bypass possible user misconfigurations, relies on the use of an Apple ID. You can even use your own personal me/mac.com email address although it's advisable to set up something dedicated to this task, if you're undertaking as a serious server implementation.
The setup process offers various configuration options including local network only (no Internet); 'private network' (VPN but no regular Internet services) or connect with the 'entire Internet' to provide various online services. A few more bits of information and you're up and running – almost before you know it. If you want to serve your own named domain from home I've found that services such as No-IP.com are useful, but it's not what I'd recommend for something mission-critical; speak to your ISP if you need help here.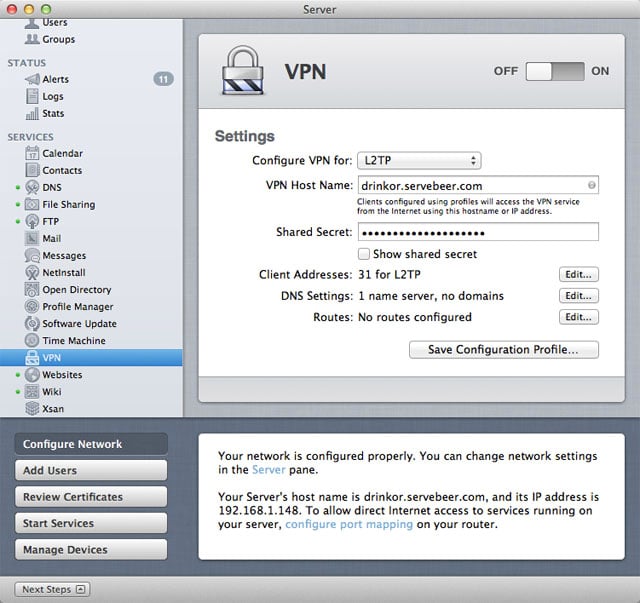 VPN and other stories...
Server's single window has an expandable 'Next Steps' pane with friendly (and also helpful) messages that prompt you for things you may need to check or just tell you that all's golden in server-land.
The range of server features that you get is a bit of a shopping list, so bear with me as I trot through some of them: Calendar and Contact provides central management of appointments, invitations, address book and so on. DNS (on by default) gives managed lookup services for the client computers on your network, and this can be extended to other named networks if you want to spread Server's DNS wings further.