This article is more than 1 year old
If you can't take the Samsung, get out of the kitchen
Household chores to become 'inspirational experiences'
IFA 2012 Samsung's IFA keynote was true to form, some might say. Although the company had "a different script" with its presentation style, it did seem to have copied been influenced by the recent UK Olympic opening ceremony, given its theatricalities.
Samsung's head honcho and chief wizard of the day, Boo-Keun Yoon, consumer electronics division president, played Harry Potter as he took the floor. His live image was presented centre stage with accompanying glittering effects superimposed at key moments, such as when he proclaimed, "our goal in just three years, in 2015, is to be the number one producer of all kitchen products".
OK, we're hooked now, right? Well, perhaps this would have been more interesting if Samsung hadn't spilled the beans on its Ativ mobile products the night before. Shall we talk fridges? Maybe, it'll keep. How about woodland projections of Samsung execs (that were difficult to see) muttering soundbites such as, "Samsung sells three TVs per second and ships 1m mobile devices per day... as a media exec this inspires me."
You don't say.
OK, how about the latest on tellies?
As the scenery shifted, thanks to a mime acting stage hand dressed in white and looking like a smurf escaped from an asylum, Michael Zoeller, European Marketing Director TV/AV took the stage. Fancy a slim bezel 75-inch TV? Samsung's got one coming, but it might as well hang at Tate Modern given what it'll probably cost. And while Sony announced yesterday that you'd be able to feast your eyes on its 84in 4K resolution KD-84X9005 Bravia TV later this year, Samsung was keen to talk up its ES9500 OLED model, that's now coming to Europe.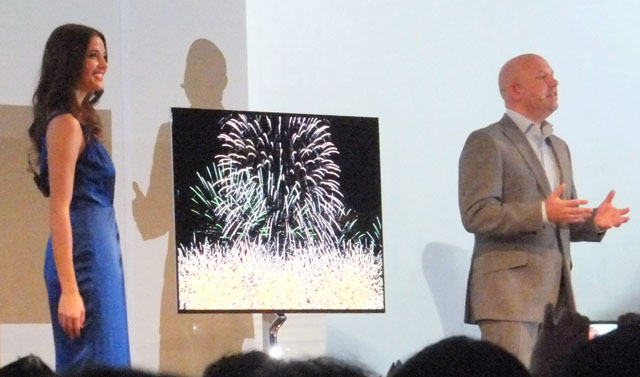 Samsung's ES9500 OLED TV: it's "awesome" apparently
Lending her insights to the proceedings, Samsung TV ad babe Angela Bellotte appeared with Zoeller. When asked what she thought of the ES9500 picture quality, she gave a tech savvy reply:
"Awesome, I've never seen anything like this before."
A tough act to follow, but her work wasn't done yet.
We were treated to a rather rubbish demo of dual display TV – the faster response times of OLED make it ideal for this purpose and the ES9500 features 3D specs with integrated earphones. I'm not sure what they saw, but the headgear gets assigned to the channel you want to view and two stations can be watched simultaneously from the set. Perfect for couples filing for divorce but who can't afford to live apart.
Indulging in some gesture politics Bellotte went through the motions of playing Angry Birds – yup, it's going to migrate and become a Samsung TV app too and naturally, it responds to movement control. Samsung claims 45m app downloads for its TVs and has a new footie app in the works too, that will access 40 leagues from around the world.
But what about the fridges?
OK, if you must, although all assembled in the baking conference hall would have preferred a real live demo of Samsung's air conditioners – something to blow us away with next year guys? For now, though, Allshare is where it's at – this is Samsung's networking ecosystem that features DLNA and a few other tricks.
Tablets and mobiles? Been there done that. The connected home seems to be where we should be looking for innovation and by delivering a private network of consumer electronics and domestic appliances, Samsung is, as Yoon put it, "developing products that understand you and your home... your cooking and cleaning habits."
Oh dear.
"Household chores turn into inspirational experiences..."
Maybe he should get out more. Still, the idea is that your white goods will have the capacity to coach you in cooking and cleaning and other domestic tasks so that there will be an app for all those things learned at mother's knee.
Still, for those buying into a world where your phone turns up the heat in the kitchen, the good news is that now you'll never have to worry if you've left the gas on at home. ®