Counter-Strike: Global Offensive
Gang bang
---
Review Take a good close look at your favourite multiplayer first-person shooter and chances are it owes much of its weapon balancing, map structure and pacing to Counter-Strike. A tactical, team-based Half-Life mod which first saw light of day in 1999 – having itself been influenced by the brilliant but glitchier Action Quake 2 – which was subsequently honed to perfection as various updates were applied.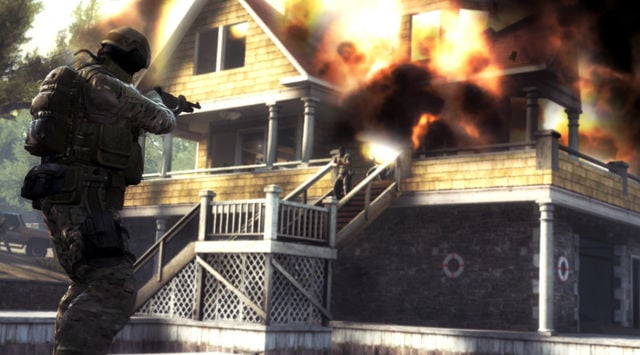 Huff and I puff and I...
One thing that Counter-Strike's development team never meddled with, however, was how the action flowed. Indeed, true to its predecessors, CS:GO eschews such modern FPS staples as sticky cover, iron sight aiming and predictable gun pick-up points. Instead, it continues with the magic ingredient which made it so different in the first place – an ingredient that few have dared to copy – that once you die you're dead... for a few minutes at least.
So is born the eternal dilemma: do I rush the enemy, so possibly gaining an advantageous position, perhaps even getting the drop on their flank or rear? Or will I be risking running into a wall of instant death in the shape of a well-organised opposing team? Or do I choose to keep away from any initial conflicts, perhaps meaning I stay alive for longer but at the expense of John McClane type moments where everything falls into place and I get to play hero? Decisions, decisions.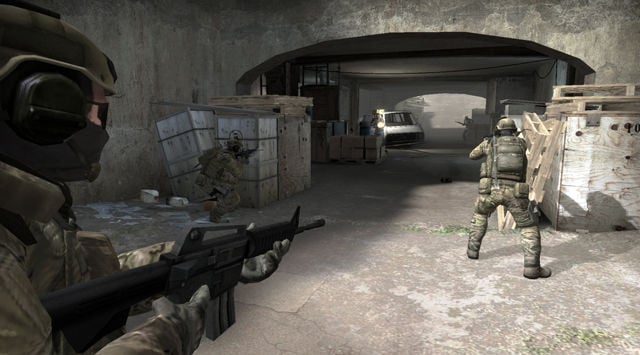 Tin hat alley
Before I get too lost in whimsy, introductions are in order. Counter-Strike, which even those with no experience of the game should have grasped by now, is a FPS. It is one which pits terrorists against counter-terrorists in some of the most perfectly planned maps ever to be created. At the beginning of rounds, weapons are bought – limited to knife, pistol and one larger gun – with money earned from kills and objective completion.