LOHAN rolls out racy rocketry round-up
Progress to date on our audacious spaceplane mission
---
In response to requests from several Reg readers who've been following the progress of our Low Orbit Helium Assisted Navigator (LOHAN) ballocket mission, we've put together a round-up of just where we're at with the various aspects of the project.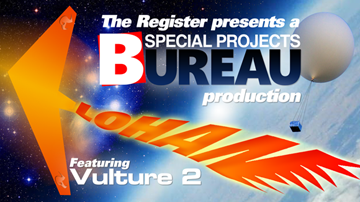 The LOHAN team is fighting on several fronts to advance towards an explosive spaceplane climax, with the invaluable support of several companies who've chipped in kit, as well as volunteers who've stepped into the breach with expert assistance.
As is only right and proper, we'd also like to give a heads-up to all those readers who've offered quality advice and suggestions as we've battled away over the last year.
Here's our outline mission summary (click for a bigger version)...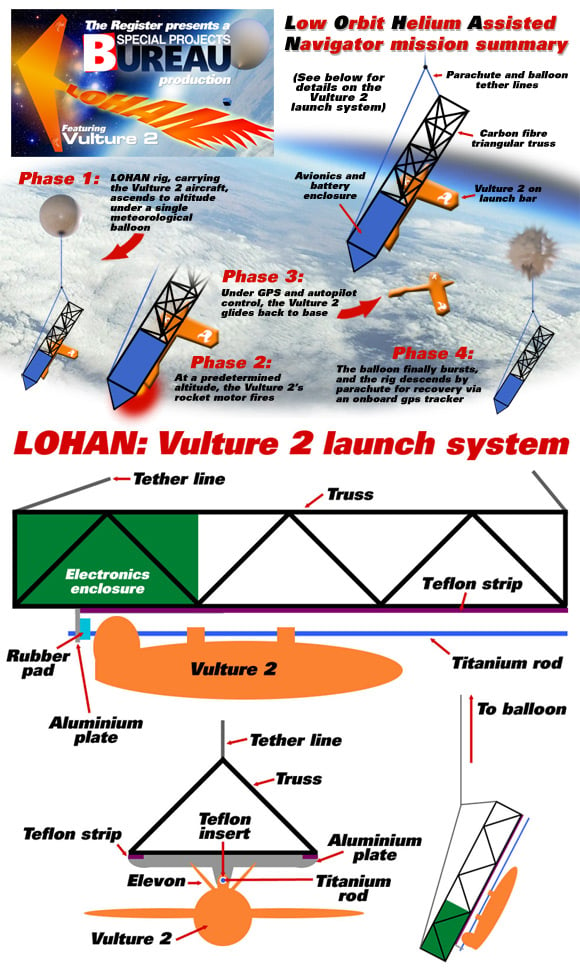 ...and the current lines of attack are:
Vulture 2 spaceplane
Rocket motor testing in the Rocketry Experimental High Altitude Barosimulator (REHAB) chamber
Rocket motor heater
Fantastical flying truss
Mission electronics
1: Vulture 2 spaceplane
Our elite Southampton University team has been beavering away on the design of the spaceplane, which has presented some major technical challenges.
The aircraft is effectively required to act as both rocket and glider, meaning the team has to plan for two distinct flight phases: the launch from the flying truss and subsequent glide back to base under autopilot control.
As you can imagine, simply the calculations as to the centre of gravity shift as the rocket more burns its solid fuel reload have kept the chaps off the streets for a while.
They do, though, now have a working CAD model into which they can enter the parameters, and use to simulate the flight characteristics. Once they're satisfied, they'll fine-tune the CAD design for delivery to 3T RPD Ltd, who'll then ensure it's entirely ready for the 3D printing process.
Here's our video of Southampton's own printed aircraft - "Sulsa" - and the selective laser sintering (SLS) process, which shows just how the Vulture 2 will be hewn from the living nylon:
The design of the Vulture 2 is highly classified, so you'll just have to wait for the roll-out to admire its shapely form.