Schlockmeister Troma's back catalog hits YouTube
Toxic Avenger, Surf Nazis Must Die, and other works of cinematic genius now online
---
Legendary B-grade film studio Troma has taken its back catalog of schlock, horror, and violence to YouTube.
Troma rose to infamy on the back of films such as Surf Nazis Must Die, Chopper Chicks in Zombietown, and The Class of Nuke 'Em High. The company's flagship franchise, The Toxic Avenger, told the story of a nerd who, after an unplanned encounter with toxic waste, mutated into a crime-fighting superhero of sorts. "Toxie", as the character became known, eventually appeared in four films and the animated series Toxic Crusaders.
Despite generally appalling production values, plots, and cinematography, Troma nonetheless managed to attract talent such as Samuel L. Jackson, Kevin Costner, and Billy Bob Thornton – albeit in the formative moments of their careers.
Troma has released over 100 of its, erm, productions to YouTube. Many are free to watch in their entirety, which will surely be welcome to fans of Redneck Zombies.
"Hits" such as The Toxic Avenger are offered as pay-per-view for the reasonable sum of $2.99, which gives you the right to watch the flick for 48 hours.
Troma's success came long before iTunes and other less-legal content distribution channels pumped every film ever made into homes and handsets. In those far-off days, content-starved teens of the 80s and 90s rented this kind of fare on VHS tapes to wile away their weekends.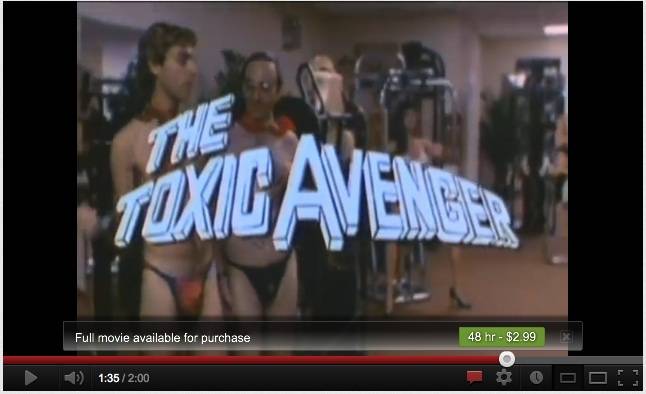 Dismiss this as pointless nostalgia at your peril: rumours swept the web last week that John Travolta may star in a Toxic remake. If that doesn't convince you of the cultural importance of Troma's desperate bid to monetise its back catalog bold stride into electronic distribution, nothing will. ®