'Pre-bionic' eye implanted in blind patient
'I could see a little flash' says recipient
Australian researchers have claimed a world's first by successfully implanting a 'pre-bionic eye' in a blind patient.
Ms Dianne Ashworth is the patient in question, and suffers retinitis pigmentosa, a condition that has left her with profound vision loss.
The eye Ashworth received is a prototype with only 24 electrodes in its retinal implant. A small wire links the implant to what Bionic Vision Australia (BVA), the organisation that developed the eye, calls "a connector behind the ear" BVA says "An external system is connected to this unit in the laboratory, allowing researchers to stimulate the implant in a controlled manner in order to study the flashes of light."
Ashworth has said, in a canned statement, that when researchers stimulated her implant didn't know what to expect, but:
"… all of a sudden, I could see a little flash … it was amazing. Every time there was stimulation there was a different shape that appeared in front of my eye."
The device has not given Ashworth sight but her experiences will allow the BVA team, a consortium of researchers from several Australian institutions, the chance to learn how to work their prostheses to achieve useful results.
"We are working with Ms Ashworth to determine exactly what she sees each time the retina is stimulated using a purpose built laboratory at the Bionics Institute." Said Professor Rob Shepherd, the Institute's Director. "The team is looking for consistency of shapes, brightness, size and location of flashes to determine how the brain interprets this information.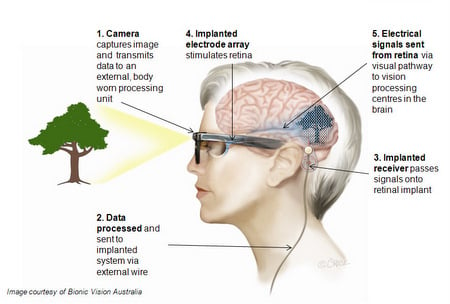 BVA is already working on future models of its implant, with a 98-electrode model its next effort. A 1024-electrode model also on the drawing board.
Future models and tests will involve a camera being placed over recipients' eyes, with the camera's inputs fed into the retinal implant.
Funded by Australia's government to the tune of AUD$42m, BVA aims to develop a bionic eye by 2020. ®