This article is more than 1 year old
Sony Vaio 11 Duo hybrid PC hands on review
A keyblet? It's an Ultrabook, apparently
IFA 2012 Examples of Windows 8 tablet plus detachable keyboard combo devices were all over IFA like a rash. However, Sony's Vaio Duo 11 has a different approach that keeps the two components together. There are advantages and disadvantages to this arrangement, whichever way you look at it. Great, I'll never lose that keyboard... mmmh, this tablet is a bit heavy.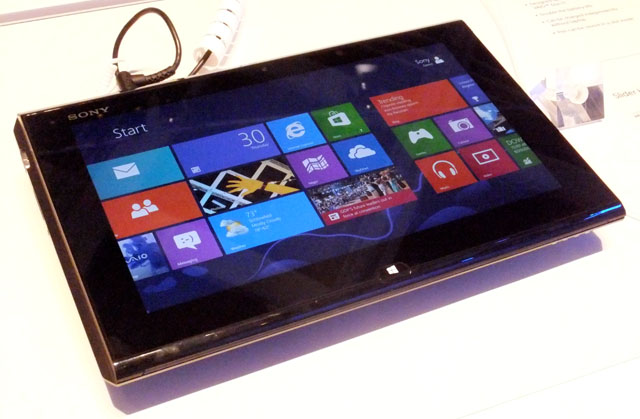 Indeed, pick up the Vaio Duo 11 in fondleslab mode and it does seem a chunky beast and, in a short time of use, its CSI fingerprint collecting all-black plastic casing turns it into the grubbiest piece of top notch tech you'll find. But flip it open and the get busy on the keyboard and these aesthetics are soon forgotten as you gaze on the bright 11.6in 1920 x 1080-dot touchscreen and find yourself in notebook mode. Getting there is a bit of an easy-once-you-know-how affair though.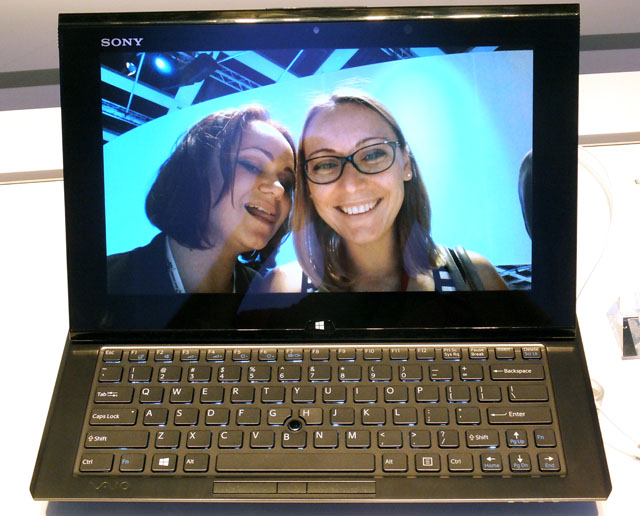 Lap it up: HD cameras on front and back
After attempts to prise up Vaio Duo 11 from tablet to keys mode failed to motion in anything like a fluid way, I had to collapse one nearby to appreciate the action required to flip it back up again. It seems a bit clumsy at first, but once you find the latch at back, then you soon get the knack, although you do need to steady or raise the Duo 11 slightly to get some purchase on it.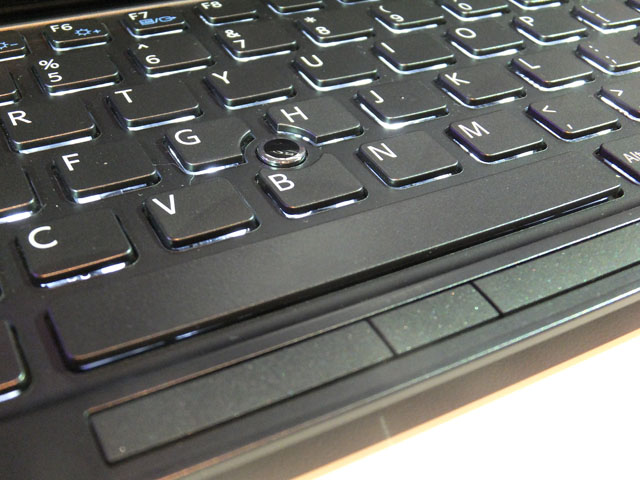 Point and click
A nice touch on the keyboard is the trackpoint controller in the middle of it, which utilises an optical sensor – you also get trackpad buttons into the bargain. This might seem a bit over-the-top for a tablet combo, but Sony describes the Vaio 11 Duo as an Ultrabook and when you take a closer look, there's interfacing aplenty including a gigabit Ethernet port alongside the power socket.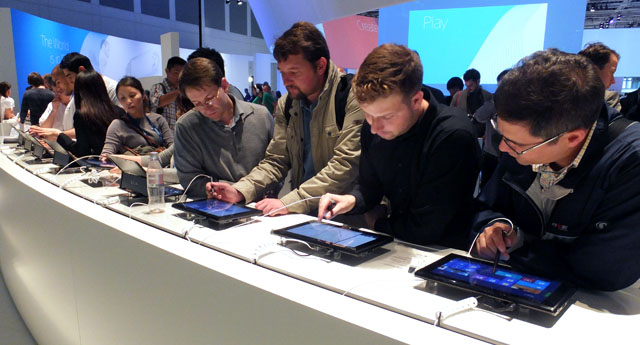 Pen-sive mood
Yet Sony obviously wants to bring the best of all possible worlds into its Windows 8 PC experience, so when you've had enough typing or tapping, you can dust off the digitiser stylus pen that has a choice of different tips for hard or soft scrawlers. The screen is pressure sensitive too, which will suit arty types and, for the rest of us, the pen will pull those neat tricks of copying and pasting encircled areas, as well as handwriting recognition and smoothing geometric shapes for sketches.
There's no obvious lag with the pen, which has a battery in its shaft, but what is obvious is that the Vaio 11 Duo has nowhere to put its precious digitiser. There's not a slot in sight, which suggests this is a bit of an afterthought.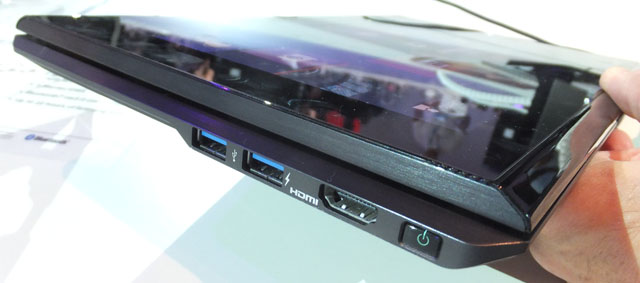 USB 3.0 and HDMI...
Now, given this is an Ultrabook – yup, it will be available in Intel Core i7-3517U, Core i5-3317U or Core i3-3217U CPU versions – you can also tack a sheet battery onto the base to double its runtime. Sony includes options for the Pro version of Windows 8 along with either 4GB or 8GB RAM and SSD sizes of 128GB or 256GB. Needless to say, it acquits itself well of the scant tasks it could perform on the stand and looks all set to do a whole lot more given its connnectivity.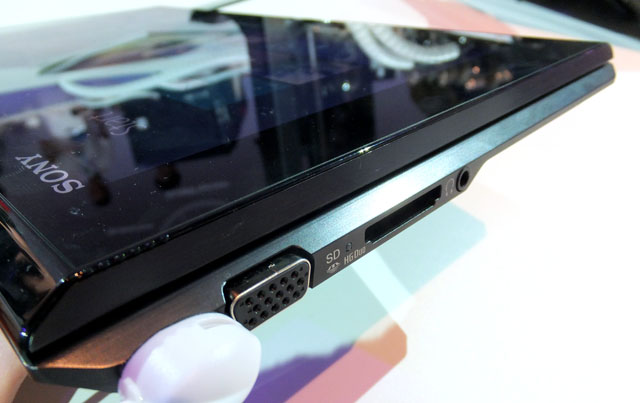 Multimedia card slot and... VGA? How quaint
There are no surprises in finding two USB 3.0 ports, a Memory Stick/SD card slot and HDMI, but VGA too? Aw, you shouldn't have. Is this being practical or sentimental? No Thunderbolt then? Oh well... always leave them wanting more – like 3G perhaps? Still, A-GPS and NFC on there too, which, if you happen to have Sony's latest MDR-1RBT Bluetooth cans, will pair with the Vaio 11 Duo with one touch. Nice.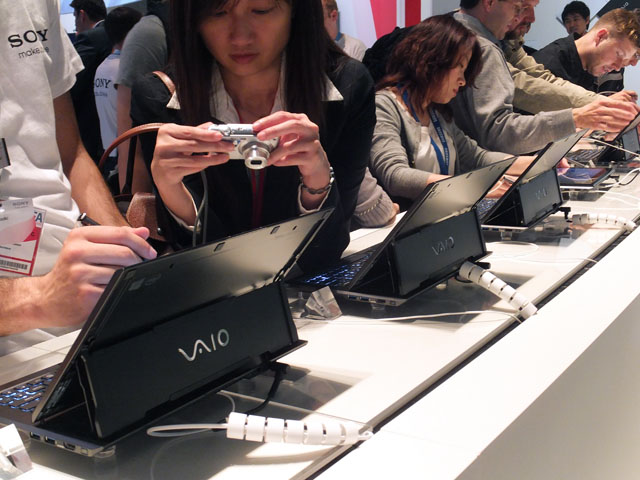 Sony's Vaio 11 Duo deckchair hybrid Ultrabook PC will be available at the end of October, pricing has yet to be announced but the word 'inexpensive' probably won't appear in the same sentence when it is. ®