Confirming what pomaceous-minded cognoscenti have been claiming for months, Apple has sent out press invites to a special event in San Francisco on September 12, which looks in all likelihood to be the announcement for the long-anticipated iPhone 5.
The announcement begins with the words "It's almost here," followed by a large number 12 – representing, of course, the date of the event. Look carefully, however, and you can see that the shadow below the 12 actually is a number 5, which surely indicates the version number of the Jesus Phone refresh.
Some pundits had speculated that Apple might drop the version number for the latest model, in keeping with the most recent iPad release, but that now looks not to be the case.
Insider scuttlebutt also suggests that although Apple will announce the new iPhone on September 12, it will not actually be available in stores until September 21.
In addition to new hardware, the iPhone 5 is also expected to include a software refresh, reflecting growing animosity between Apple and Google over the latter's Android mobile OS. In addition to being the first device to ship with iOS 6, the new iPhone will ship with a fruity mapping app designed to compete with Google Maps, and the native YouTube app will be conspicuously absent, according to reports.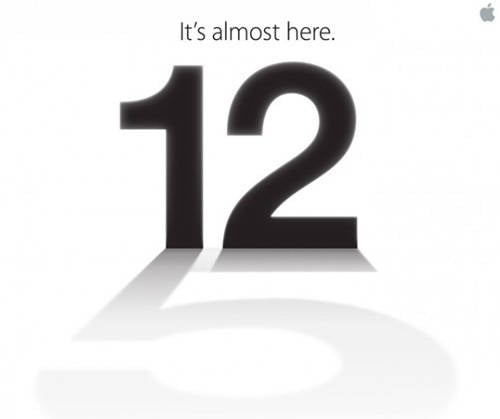 Oh, whatever could this mysterious event be for?
Also notably missing from Apple's iPhone-centric event invite was any hint of an iPad Mini, which in recent months has fed the rumor mill even more than the iPhone 5.
That's not to say a smaller fruity fondleslab isn't coming. Some insider reports have even suggested that the September 12 event will see the launch of not just a new phone and tablet, but also a revamped iPod nano. More recent rumors indicate, however, that Apple will put off any iPad announcement until October. ®
Similar topics