It was harder than usual, but not impossible, to get my hands on Nokia's two new Windows 8 phones today. Word has already gone around Twitter that press and analysts were forbidden from handling the devices. This is not true – and on a scale of difficulty it hardly rated alongside reporting from outside Baghdad's Green Zone. So here's my hands-on take.
Not all the features have been implemented in the prototypes circulating today in New York, and clever choreography prevented casual journalists from getting near the Phone app or People hub. I expect all but the most determined gave up.
Anyone who did manage to get a Lumia prototype in their mitts soon discovered new perimeters. Straying into anything messaging-related brought the Minders jumping to their feet. Straying into the 'Settings' brought out the killer Chihuahuas.
With Microsoft yet to formally launch Windows Phone 8, no doubt Redmond wants to keep some headline-stealers in reserve. We now know the People hub is one of them. Presumably, bonk-to-pay is another – there was not one mention of NFC for mobile payments.
Nevertheless, I learned a great deal. I'll start with the platform improvements, for this is the first press demonstration of a living Windows 8 Phone. (Samsung had only slideware to show in Berlin last week).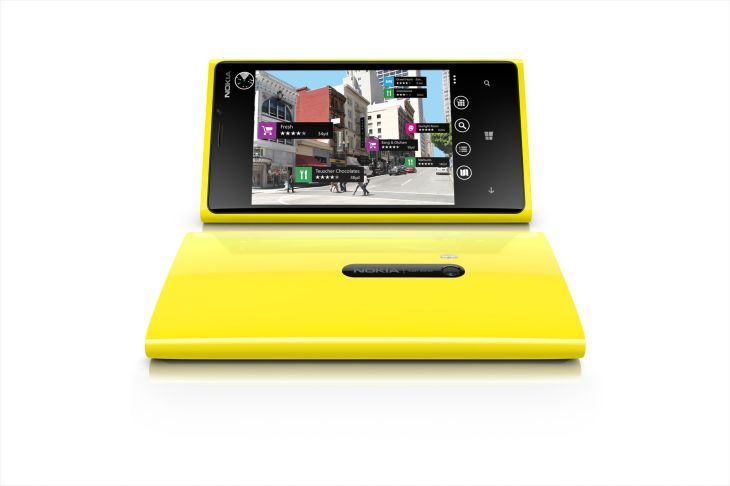 Not exactly a mellow yellow: the Nokia Lumia 920 running Windows Phone 8
In my recent long-term review I listed several annoyances about the current Lumias, based on Windows 7.5. Personally, the most disruptive of them was the long (typically seven seconds, but sometimes longer) delay in switching between 'tombstoned' or backgrounded apps.
Even if you had merely switched away from an app momentarily, you were once again presented with the tombstone. The good news in WP8, even in this work-in-progress cut, is that this delay has been reduced. WP8 uses the NT kernel, and while there was an observable lag it was no more than three seconds. Multitasking benefits greatly from this new kernel.
I wasn't able to put it through the paces of switching between Skype and the third-party Twitter app, but switching to and from the Kindle app didn't induce the dreaded delay.
The new home screen – oops!, I mean "Start Menu Experience" – works much better for having widgets – oops!, I mean "Live Tiles" – of different sizes. It now reflects the different priorities people put on different applications and activities, and feels much more natural.
Both these new Lumias are hefty devices – more on that in a moment – and it remains to be seen how good WP8 looks on a slimmer, lower-spec phone. It certainly feels a good fit for devices somewhere between today's iPad and iPhone.
Lumias on steroids
If you're familiar with the design of a Lumia 800 or 900, then you have a good sense of the 920 looks like. Except it's larger – much larger. And thicker and heavier.
At a centimetre thick, the 920 truly is a formidably substantial slab. The only design modification is a very superficial one: the casing is now glossy rather than matte. The market doesn't seem to mind large slabs, but this is really out there. Tipping the scales at 185g, it's closer to Nokia's last brick (the 220g Nokia 9500) than the Galaxy S3 (130g), and only the N900 in recent years comes close. That said, it's the same width as the S3, give or take a millimeter.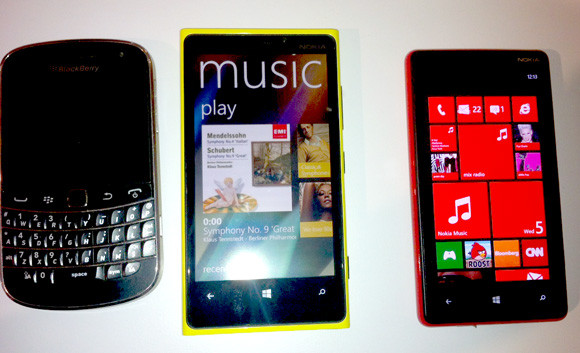 Left to right: Blackberry Bold 9900, Lumia 920, Lumia 820
Curiously, I found it hot to the touch, on the back around the camera. This is where the Snapdragon S4 CPU – and the GPU – are located. While I wouldn't draw anything conclusive from this, and this is only a prototype, it would be remiss not to report it.
The 820 hardly got mentioned in Wednesday's presentations, but oddly I found it much more appealing. Once again, with a Lumia launch, I've wandered off the script – and found the cheaper, more modest "also ran" phone to be more attractive, personally, than the flagship. Looking at Nokia's website now, you wouldn't even know the 820 had been announced: here it is, though.
The 820 has lots going for it. There's the rounded corners, the more manageable size (it's still not small, with a 4.3-inch display to the 900's 4.5-inch), the addition of a memory card slot, and (much rejoicing) a removable 1650mAh battery. It also shares the 920's Qi wireless charging.
It's deemed a second-class citizen because it uses the Windows 7.x display resolution (800x480) rather than the 1280x768 resolution of the giant 920, and there's no funky image stabilisation. We don't yet know the pricing, but from here, it looks like a pretty strong product.
Imaging wonders
As I mentioned above, the platform improvements in Windows Phone 8 ameliorate some of the showstoppers of Windows Phone 7.x. Smoother task handling and a better home screen have arrived just in time. But what has Nokia brought to the party?
In a nutshell, it's going to be sold on imaging. The quality of the pictures and movies taken with this really are a bit special, distinctive enough from the competition to get talked about in pubs.
There are two party tricks you can do with the 920. One is take pictures in very low light with no flash – in near darkness, in fact – and come up with something filled with light.
The other is to start taking a video while shaking the camera, and then do a half-press on the shutter button to turn on the image stabilisation. As you shake the camera, the image stops shaking – it appears still. It's a pretty neat trick.
I found it hard to take a bad picture with the 920, which banishes some endemic problems with phone cameras. Even in near darkness it takes decent pictures (using flash is fundamentally anti-social).
While the addition of wireless charging and bonk-to-play-music (the latter feature producing somewhat random results with the prototypes) are no doubt nice, and the Wallet features not being mentioned, the imaging is the star attraction.
Alas, the Minders leapt into Red Alert mode to prevent me transmitting the results, you'll have to take my word for it.
Downers? Well, imaging is still in its infancy. The camera on one Lumia was completely borked, and showed duff images on another. But the potential is there.
The markets and most analysts have written off Windows Phone and Nokia with it. It's too late, runs the conventional wisdom, for a "third ecosystem" to gain traction. Windows Phone to date, frankly, hasn't moved the market. But there are times when you carefully and dispassionately consider the empirical evidence and the only honest response to the Conventional Wisdom is: "Who gives a crap?"
Products that clearly offer value to punters deserve to get sold, and usually shift. I'd be surprised if, barring disasters, Nokia's new Lumias don't start to shift the needle. I'm not convinced WP8 can work on smaller cheaper devices – but these aren't small or particularly cheap. Nokia now has a strong story, at last. ®