Nokia tears wraps off new Windows Phone Lumias on steroids
Ball-breaking design packs new features, PureView cam
---
From a distance, Nokia's new Lumia 920 flagship smartphone looks identical to its current flagship handset - but on a diet of performance-enhancing steroids.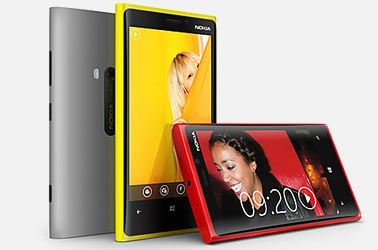 The Lumia 920, unveiled in New York today, is the first proper Nokia Windows phone, and is powered by Windows Phone 8. Its looks may be misleading: behind the ho-hum hardware design, which has failed to set the world on fire so far, it has the most impressive set of features. Clever ideas that have been curdling in Nokia R&D labs have finally made it onto the marketplace.
Nokia also announced a more pocket-friendly Lumia 820 model with a removable battery and swappable colour shells.
Nokia wouldn't reveal prices or launch dates, except that "selected markets" would get it in Q4.
The 920 borrows some of the PureView imaging technology that first appeared in the 41MP PureView 808 - and applies it to a standard 8MP camera. The explanation is that Nokia now uses PureView as a marketing term for all of its high-end imaging - which rather devalues the unique proposition of the jaw-dropping 808 camera. The 920 however includes some optical image stabilisation technology found in real cameras: the entire optical assembly is mounted on springs and the sensor compensates. The moving image results are dramatic. For stills, it beats smartphone cameras offered by rivals. Cloudy weather and nighttime images are excellent.
Both Microsoft and Nokia are extremely pleased with the imaging capabilities, touting new "lenses" (ie effects) which can be applied as the image is taken. Other lenses include an amusing Soviet-style one to airbrush unwanted Party members from group photographs.
So it isn't the incredible 41MP PureView as we know it - but it does restore Nokia's historic edge in phone imaging.
This large new device includes a huge 2000mAh battery to power the huge 4.5inch screen. The existing Lumia screens didn't amaze, but this one is vastly improved and as good as anything else on the market, with much faster pixel transitions than rivals. PureMotion HD+ is the marketing word.
As expected, wireless recharging is included in both 920 and 820 models, based on the Qi standard, and enables contact-less charging - you can sit it beside a charger "pillow" from FatBoy. Nokia has signed up Virgin and Starbucks to provide the pillows in its respective lounges and coffee shops. It's also persuaded JBL to produce Lumia-friendly speakers with built-in charging and NFC. Music playback instantly transfers from device to speakers when the device is bonked with the JBL, which also charges the phone.
Nokia's Kevin Shields touted "innovation in design" using a material his company has "spent years perfecting": the one-piece polycarbonate shell. It's identical to the 800 and 900 devices, only larger, including a giant lower bezel. This time Nokia has added quite startling red and yellow models.
Evidently Nokia has great faith in the potential appeal of this pocket-punishing design, despite the market verdict to date. Whoever makes gonad-saving safety bumpers for these sharp corners may well sell a few, we reckon.
(Your reporter will reserve judgement until he gets his hands on the kit - report to follow.)
Microsoft CEO Steve Ballmer - a new slimline version - made an appearance, and true to form, almost blew out the PA system. Several Windows Phone 8 features remain under wraps until Microsoft's own unveiling. ®