Samsung accused of using child labor in its own factories
Chinese labor watchdog charges massive overtime and exploited workers
---
Samsung is facing fresh allegations of employing illegal child workers – this time in its own Chinese factories – a day after the company said that an independent review had cleared one of its main suppliers of similar charges.
China Labor Watch has issued a new report on eight factories completely or partially owned by Samsung. In three of them underage workers were reported, and all have conditions that the watchdog considers abusive, including illegal overtime requirements, poor working conditions, and contracts that are difficult to understand.
Huizhou Samsung Electronics, which manufacturers MP3 players and speakers, Shenzhen Samsung Kejian Mobile Telecommunication Technology, which concentrates on CDMA phones, and Tianjin Samsung Mobile Display are all accused of employing staff under the age of 18.
"Workers have testified that they are not only employing staff that are too young but children are also working who have fake IDs," Li Qiang, spokesman for China Labor Watch told The Register.
Five of the eight factories are also reported to be abusing the student-worker system. Some students work at Samsung as part of their classwork, and China Labor Watch said that most don't have formal contracts. Instead they are signed up by their schools, which the group claims take kickbacks from factory management.
The full report says that conditions in Samsung-owned factories are better than those of its suppliers, but that workers were still being subjected to abuse from staff and have few options for seeking redress.
All eight factories exceeded the legal maximum of 36 hours overtime per month, with Tianjin Samsung Mobile Display workers hitting 186 hours of overtime one month – a rate that leaves them with one day off every 30 days. Shifts are usually 11-12 hours apiece and workers must maintain incredibly fast work schedules, such as assembling a cell phone case every five seconds.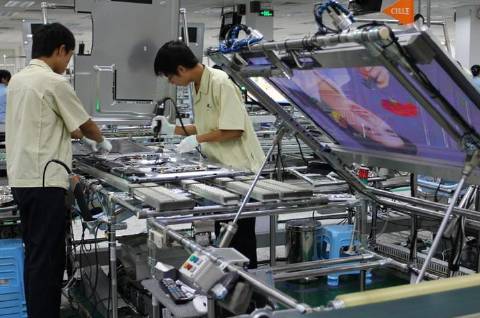 Samsung workers face long shifts and tough production targets
Workers are expected to stand for their shifts, and in one case a factory barred them from wearing shoes on the assembly line. At least two factories had reports of staff abusing workers both physically and verbally, and most of the factories discriminate to hire younger – and particularly female – workers since they are seen as less likely to cause a fuss.
Obtuse, manipulative, and misleading contracts are also a problem. One factory hired staff on a probation period–basis, but only upgrades these staffers to full-time employees in July of each year – meaning you're in a for a long wait if you're hired in August. Workers can also be charged up to half a month's salary as an initial fee to get their jobs.
Once in the factories, workers are usually housed within six- or four-person single-sex dormitory rooms, and some aren't allowed to have any personal electronics in there – ironic, considering their employer. Many factories do provide some free meals, but only if they're eaten on the premises.
Home sweet home for a Samsung worker
Samsung is the latest in a long list of tech firms targeted by China Labor Watch over their working practices. They've accused Apple of not keeping a tight grip on its suppliers, as have Foxconn and Samsung, and this latest accusation will be vexing for the Korean manufacturer.
Samsung moved quickly to investigate China Labor Watch's earlier allegations of child labor at its suppliers, having an independent audit completed within a month of the original accusation. How quickly it will investigate its own operations remains to be seen. ®