Space saving data de-duplication
A virtual disk can be larger than the available space, a technique called thin provisioning, in which case you will need to add drives to the pool as it fills. Storage Spaces can be confusing, particularly with parity striping, but it does offer built-in scalable and resilient storage. You can even assign virtual disks to folders rather than drive letters, yet another example of Windows following a UNIX-like feature.
Another new storage feature is data deduplication, which saves storage space by consolidating duplicate files or data blocks so that they are only stored once on disk. There is a performance overhead, but it makes sense for certain scenarios such as storing VM template images that duplicate a lot of data.
Hyper-V is greatly improved in this release. A virtual hard drive can be up to 64TB, using the new VHDX format. Virtual Fibre Channel lets you connect directly to Fibre Channel storage within a guest operating system. Hyper-V Replica lowers the requirement for resilient VMs to two Hyper-V servers and a right-click replication option. Live Migration lets you move VMs while keeping them online without the requirement for a Windows cluster, and with multiple simultaneous moves. You can also now move virtual hard drives while online.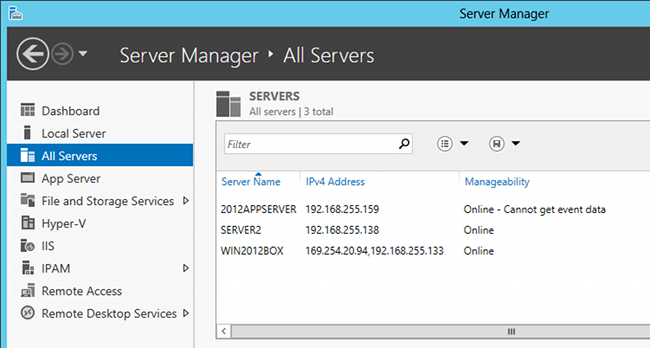 An annoying error in Server Manager: cannot get event data
New virtual switches are extensible with third-party filter drivers for added security options. NUMA awareness lets you optimise VS performance on multi-processor servers with Non-Uniform Memory Architecture (NUMA) architecture. These are key features, and build on what was already a solid virtualisation platform.
One Hyper-V annoyance is that the new Hyper-V manager will not manage Hyper-V servers older than Server 2012. This goes alongside a general annoyance with the Remote Server Administration Tools (RSAT), which is that the new 2012 Server Manager only runs on Windows 8. There is limited compatibility with the 2008 R2 version of RSAT, which runs on Vista and Windows 7.
Desktop virtualisation is better supported in Server 2012. Configuration of Remote Desktop Services has been somewhat simplified, though as ever the underlying complexity will soon manifest itself, but getting started is easier. Server 2012 supports both pooled Hyper-V VMs and the more economic session hosting, with new features to support better personalisation as well as resource throttling for fair allocation of CPU, disk and network bandwidth.
DHCP, a service that assigns IP addresses dynamically, is a key part of most networks. Previous editions of Windows Server made it difficult to configure resilience for DHCP, since conflicting DHCP servers are not allowed. DHCP failover is now available as a built-in feature.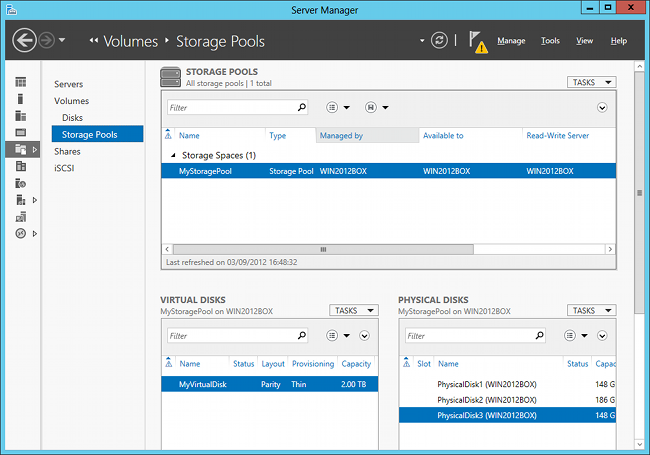 Storage Spaces offers built-in virtual storage for smaller deployments
Licensing in Windows Server 2012 has changed, and is now essentially a per-processor model. There are three editions. Foundation is a starter edition for OEMs that permits up to 15 users on a single processor box. Essentials is the closest thing to the abandoned Small Business Server line, though it is a lesser thing with a 25 user limit and no Exchange: you are expected to connect to the cloud-hosted Office 365 instead. Standard allows up to two processors and up to two virtual instances.
Datacenter allows up to two processors and unlimited virtual instances. If you have more than two processors, you buy additional licences, so for an eight-processor box you would need four licences for either Standard or Datacenter. Note that the limitation on virtual instances refers to licences for Windows Server running on those instances. It is not a limitation on the number of virtual machines (VMs), so for example you could run unlimited Linux VMs on Standard Edition.
While arguments continue to swirl about the merits of the Windows 8 client, the server upgrade is hard to fault. The move towards greater modularity, stronger automation and improved virtualisation makes perfect sense in a world of public and private clouds. That said, the capability of Windows to deliver obscure and time-consuming errors is unchanged, despite the generally solid performance of today's Windows server. Nevertheless, this is a strong upgrade overall. ®
Similar topics