Amazon has announced a refresh of its entire Kindle line, including updated models of its basic e-readers and fondleslabs, plus a new family of upscale tablets designed for viewing high-definition content.
The new devices, which Amazon CEO Jeff Bezos unveiled on Thursday at a press event in Los Angeles, include a new e-ink based reader with a backlit screen, a slightly improved version of the Kindle Fire, and three models of the new, more powerful Kindle Fire HD, including one with bundled 4G LTE wireless connectivity.
"Customers are smart," Bezos said. "Last year, there were more than two dozen Android tablets launched into the marketplace, and nobody bought them" – that is, he said, with the exception of the Kindle Fire, which Bezos said now accounts for 22 per cent of tablet sales in the US.
With the launch of the more upscale Kindle Fire HD models, Amazon is clearly moving aggressively to win even more market share from Apple's seemingly untouchable iPad, which accounts for nearly 70 per cent of tablets sold worldwide.
All of the Kindle Fire HD models share the same basic specs. All are built around Texas Instruments OMAP 4470 processors, which Bezos said could deliver 50 per cent more floating-point operations per second than Nvidia's Tegra 3. All offer HDMI video-out, stereo speakers, Bluetooth connectivity, and high-performance, dual-band Wi-Fi with twin onboard antennas.
The main difference between the two Wi-Fi–only models is in the size of their screens. The smaller version has a 7-inch, 1280x800 display, while the larger has an 8.9-inch screen at 1920x1200 resolution – better than your typical high-def TV. Bezos said both screens are laminated with a special, omnidirectional polarizing filter, allowing them to display the full color spectrum at all angles.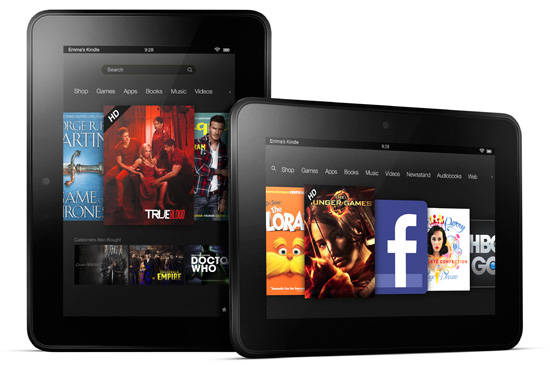 Amazon's new Kindle Fire HD line aims to out-fondle Apple's slab
Pricing for the 7-inch Kindle Fire HD starts at $199 for a model with 16GB of storage, while a 16GB model with an 8.9-inch screen goes for $299. The smaller version will ship first, on September 14, while the larger version will arrive just barely in time for the holiday shopping season, on November 20.
A third version of the 8.9-inch Kindle Fire HD, also due on November 20, bumps the onboard storage up to 32GB and adds 4G LTE wireless connectivity, which Bezos called "the ultimate tablet feature." At $499 it's pricey, given that its other specs are the same as the Wi-Fi–only version, but it's the bundled data plan that's the selling point.
For just $49.99 per year – a little over $4 per month – Amazon is offering Kindle Fire HD customers 250GB per month of high-speed LTE wireless data. As a bonus, it's also throwing in 20GB of cloud storage, plus a $10 credit for the Amazon Appstore.
"We are not building the best tablet at a certain price," Bezos said of the 4G Kindle Fire HD. "We have just built the best tablet at any price."
In addition to the Kindle Fire HD, Bezos also announced upgrades to Amazon's lower-end Kindle models. As expected, the standard Kindle Fire, which went out of stock in August, got a minor refresh, due to ship on September 14. The new version sports a 40 per cent faster processor, double the RAM, longer battery life, and a price cut to $159.
Amazon is offering a new version of its e-ink Kindle, too, called the Kindle Paperwhite. This model's screen offers 25 per cent more contrast and 62 per cent more pixels than that of the earlier Kindle Touch, and it includes a backlight. According to Bezos, the new model weighs just 7.5 ounces (213g) but its battery can last eight weeks on a charge, even with the backlight on. It will ship on October 1, at $119 for a Wi-Fi–only version and $179 for one with 3G connectivity.
Although not mentioned during the roll-out event, Amazon's UK website notes that the 7-inch Kindle Fire HD will be available in Blighty for £159 for the 16GB version and £199 for 32GB, and that the upgraded Kindle Fire will cost £129. Both will be available beginning October 25, though Amazon is taking pre-orders now.
Neither the larger Kindle Fire HD nor the Paperwhite Kindle are yet being offered in the UK, or in other European markets, which can also pre-order the smaller Kindle Fire HD and the new Kindle Fire.
Finally, all but lost in the shuffle amid all the new product announcements, the humble entry-level Kindle – the version that's supported by ads – is also getting a price cut, to $69.
All of the new Kindle models are available for preorder from Amazon.com beginning on Thursday. ®
Similar topics