This article is more than 1 year old
Boffins computerize giant cyborg cockroaches
Why bother with robots when evolution's already done its job?
A team of scientists have developed a microchip backpack that allows them to control the movements of a cockroach by stimulating its nerve endings.
Rather than trying to build a robotic insect controlled by custom software, the team from North Carolina State University used cockroaches and off-the-shelf electronics. Since cockroaches are famous for both their hardiness and their ability to squeeze through almost any crevice, the team reasoned they would be suitable as the sensor platform they wanted.
"Our aim was to determine whether we could create a wireless biological interface with cockroaches, which are robust and able to infiltrate small spaces," said Alper Bozkurt, an assistant professor of electrical engineering at the university.
"Ultimately, we think this will allow us to create a mobile web of smart sensors that uses cockroaches to collect and transmit information, such as finding survivors in a building that's been destroyed by an earthquake."
Bozkurt and his team used one of the largest types of cockroach, the flightless but oh-so-charming Madagascar hissing cockroach (Gromphadorhina portentosa), which was selected because of its large size of between 5 to 7cm and its longish lifespan of two years. They glued a Texas Instruments CC2530 SoC – that's "system on chip", not "system on cockroach" – onto its back as the controller, and after adding a wireless connection and battery the backpack weighed in at 0.5 grams.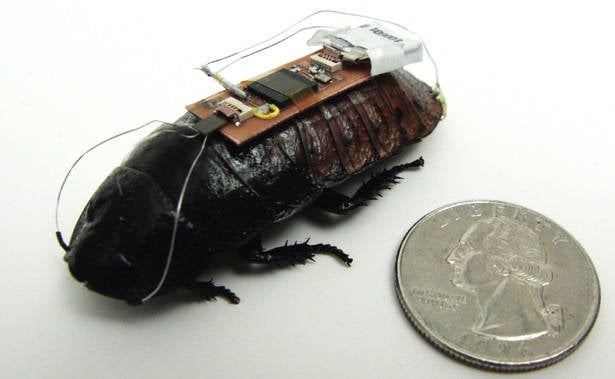 The Terminator it ain't – cute li'l guy, though
Twin electrodes were fused to the cockroach's antenna stumps, which steer the creature by simulating them to make the cockroach think it has hit an obstruction and thus induce a change of direction. Two more sensors were attached to sensory organs on the side of the insect that can make it move forward on demand by simulating the approach of a predator.
The system works very well in the demonstration video below, with the cockroach guided on a curved path by repeated mouse clicks. In extended lab tests, the cockroach was found to be hampered by the weight of some of the controllers tested, with lighter units proving generally more successful.
This isn't the first success the team has had in computer control of insects. Bozkurt has already successfully implanted electronics in hawk moths to control the direction and speed of their flight.
While using insects in this way makes sense from a cost perspective there's also a side benefit: El Reg imagines that there will be few animal-rights protestors kicking up a fuss about such experimentation.
It's easy to stir people up over experimentation on cute lab animals such as puppies or primates (no matter if the research is useful or not) but it's the rare person who will worry about the fate of a few cockroaches – particularly if you've recently found one in your food. ®