NEC, Egenera tag team on cloudy infrastructure freakage
PAN Manager paired up with SigmaBlades, Nblocks
Japanese server maker NEC has teamed up with automation and management software company Egenera of Boxborough, Massachusetts, to make the latter's PAN Manager physical and virtual server control freak the preferred – though by no means exclusive – tool for managing the former's SigmaBlade blade servers.
NEC and Egenera are also partnering to offer PAN Manager as an option inside of NEC's Nblock system stacks, which include NEC servers, storage, and switching, and are akin to other system stacks being peddled these days by most vendors.
NEC and Egenera inked a deal back in October 2011 saying that they would partner to bring PAN Manager as a control freak option for the SigmaBlade blade servers as well as on the Express5800 series of rack servers sold by NEC in Asia, North America, and Europe.
As it turns out, PAN Manager 7.3 has been on sale in conjunction with NEC SigmaBlade machines in Japan, and is now available on a worldwide basis. With this new deal, PAN Manager is now certified to run on blades sold by HP, Fujitsu, Dell, IBM, and NEC, and can manage the physical iron (and do failover of applications between blades inside of one enclosure or across multiple enclosures) as well as virtual servers running atop the latest certified releases of VMware ESXi, Microsoft Hyper-V, Red Hat KVM, and Citrix Systems hypervisors on x86-based servers.
Mike Mitsch, vice president of IT products at NEC Technologies – the server, storage, and switching group inside the Japanese conglomerate – tells El Reg that the deal is not exclusive to Egenera, and that it has similar deals for VMware's vCloud stack and Microsoft's Systems Center-Hyper-V combo.
But in scenarios in which customers want to manage multi-tenant clouds or setups with a mix of physical and virtual infrastructure, PAN Manager is the preferred tool to manage NEC blades. Daiwa Securities, which is akin to IT consultancy Accenture in Japan, is already peddling reference architectures based on the combination of SigmaBlade systems and PAN Manager back in the land of the rising sun.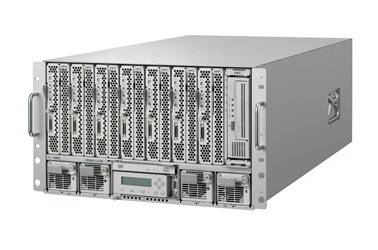 SigmaBlade M series servers from NEC
PAN Manager is also being certified as an option inside of NEC's Nblock cloudy stacks, which combine virtualized Expres5800 servers, NEC storage (both M Series storage area network arrays and HydraStore network attached-storage arrays), and virtualized networking, including Programmable Flow switches that adhere to the emerging OpenFlow virtual network standards.
The ability to support both physical and virtual servers and manage their processing, storage, and networking from a common console is one of the reasons why Egenera has been able to get into the boxes of the top five server makers, despite the fact that they have strong partnerships with both VMware and Microsoft and they generally have their own system management tools.
"In the accounts we are in, we see anywhere from 20 to 30 per cent of applications can't easily be virtualized," says John Humphreys, vice president of marketing at Egenera.
Another big benefit that NEC wants to bring to bear on its SigmaBlade and Nblock setups is a feature called "fast failover". Humphreys says that boot times are getting longer and longer for servers as they go through more checks and have more layers of software added to them, and in many cases having a server down for 8 to 12 minutes during a reboot is unacceptable. So Egenera taught PAN Manager to create a semi-booted environment, which keeps a server in a suspended state but ready to accept a server operating system and application image from SANs that can boot in about half that time.
Humphreys added that PAN Cloud Director, an add-on to PAN Manager that the company announced back in June, started shipping on time at the end of July, and is part of the stack that NEC and others can peddle. PAN Domain Manager 1.0 started shipping back in June.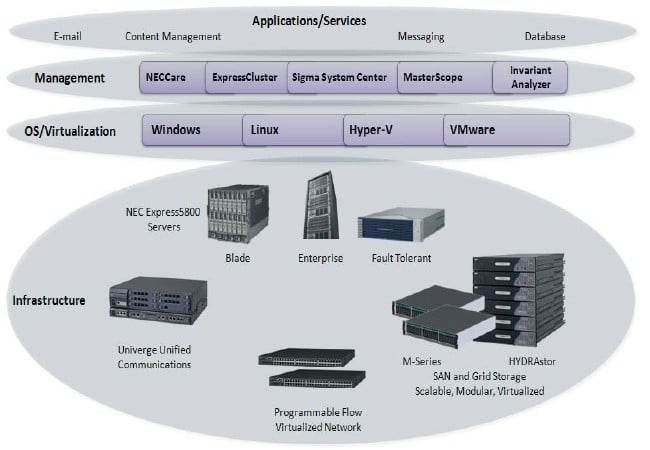 NEC's Nblock cloudy stacks
PAN Domain Manager is an extension to PAN Manager that lets the control freak span up to sixteen blade enclosures instead of the four enclosures that are possible with the plain vanilla PAN Manager.
Right now, all the iron in a management domain has to be from the same maker, but this year Egenera will update the PAN Domain Manager to the 2.0 release and allow for customers to use a mix of blades from the five supported vendors, and failover physical or virtual servers across different brands and models of machines.
This update also will allow customers to failover individual physical servers instead of an entire chassis when they go into disaster-recovery mode. This fast-failover feature has been integrated into NEC's own Sigma Systems Center control freak – not to be confused with Microsoft's Systems Center Windows Server and Hyper-V management tool.
PAN Cloud Director is a self-service portal that Egenera created for service providers and internal clouds that can provision bare-metal servers and hypervisors on the blade iron from the five server partners with which Egenera has partnered; if you use rack servers, you can do hypervisor and virtual machine provisioning, but you cannot provision to bare metal with PAN Cloud Director. At least not yet.
By the way, none of the other cloudy control freaks out there can provision bare metal like this, which is how Egenera has carved out a niche for itself. And that's why VMware, Microsoft, Red Hat, or Citrix will probably snap it up before too long, if the price for the acquisition is right.
PAN Manager Advanced Edition costs $4,500 per blade and includes PAN Domain Manager 1.0. PAN Manager Enterprise Edition costs $6,500 per blade and includes add-on fault tolerance features for physical or virtual machine failover. PAN Cloud Director costs $2,500 per blade.
At this pricing, a full-on PAN Manager stack versus VMware vSphere 5.0 plus vCenter and Site Recovery Manager extensions have about the same price at 250 virtual machines, and PAN Manager gets relatively cheaper – to between 25 and 40 per cent the price of the VMware stack – as you ramp up to 500 virtual machines.
The VMware software was cheaper than the Egenera stack at less than 250 VMs, with PAN Manager costing anywhere from 5 to 20 per cent more than the VMware tools. However, with the new vSphere and vCloud Suite 5.1 stacks, announced last month, VMware is shifting to per-socket instead of a mix of per-socket and per-VM pricing, and the competitive situation could change at the low end.
VMware has not yet shipped vSphere and vCloud Suite 5.1, and Egenera has not yet done the math to figure out where it stands. ®