Apple's iPhone may have its detractors, but they don't appear to include many folks who actually own one – yet another survey has shown that Apple's überpopular handset is beloved by a strong percentage of its users.
"For the eighth consecutive study, Apple ranks highest among manufacturers of smartphones in customer satisfaction," wrote the satisfaction-surveying statisticians at J.D. Power when announcing their findings.
And it wasn't even close. "Apple achieves a score of 849 and performs well in all factors, particularly in physical design and ease of operation," they noted. "HTC (790) follows Apple in smartphone rankings."
Samsung snuck under HTC at 782 on the 1,000-point scale – one measly point below the study average – and the rest of the current competition filed in behind. Beleaguered RIM, you ask? About where you'd expect: saved from being dead last only by the understandable dissatisfaction of users stuck with orphaned HP/Palm handsets.
Unsurprisingly, smartphone owners who use their handsets for social networking and gaming were more satisfied than those who don't. Social folks rated their satisfaction an average of 55 points higher than the asocials, and gamers rated theirs 61 points higher than non-gamers.
In a bit of an understatement, J.D. Power noted that "Smartphones are quickly gaining a foothold as the centerpiece of mobile social media," and that 67 per cent of those surveyed use downloaded social-networking apps an average of 100 minutes per week. In addition, 61 per cent play downloaded games on their phones at an average rate of 81 minutes per week.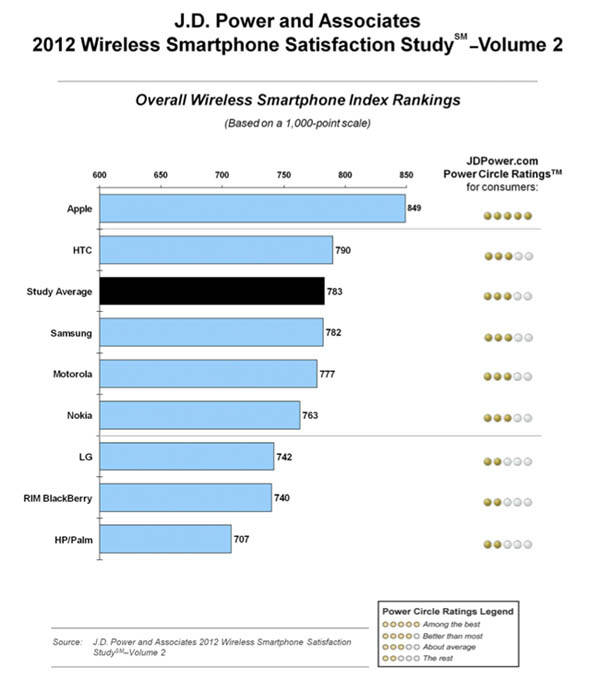 People have strong feelings about the iPhone – and among users, that feeling is one of satisfaction (click to enlarge)
The survey results, released Thursday, come mere days before what is 99.99 per cent certain to be Apple's September 12 coming-out party for the iPhone's next iteration, likely to be known as the iPhone 5.
No one outside of Apple's trusted minions, of course, knows exactly what new features the next iPhone will include, but a larger and thinner display, LTE connectivity, upgraded earbuds, nano-SIM card, 9-pin connector, more-capcious battery, and improved cameras are all on the rumor list.
What is all but certain, though, is that it'll be a hit. Piper Jaffrey analyst Gene Munster has projected that Apple could flog as many as 10 million in its first week of availability and 26 million by year end, and Asymco analyst Horace Dediu is of the opinion that 170 million iPhone 5s will make it into users' hands in the next 12 months.
If Apple's streak of topping the J.D. Power charts continues, it's likely that a high percentage of those millions will be satisfied customers. ®
Similar topics