IQ test
If your needs are more service-specific there's a useful Near Me menu with preloaded search shortcuts to the likes of the nearest petrol station, cash dispenser and parking to your location. Other search options can be added and saved manually, so you can easily find the nearest McDonalds.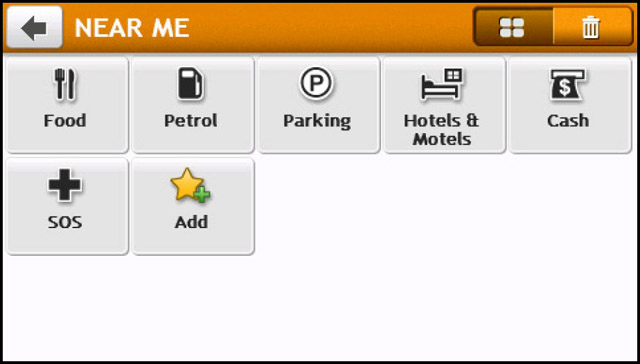 Near me options
Another nice touch is, to avoid having to actually search for car parks, once you get within a mile of a pre-selected destination the Mio Spirit 695 LM automatically shows nearby choices. Just tap one and navigation diverts to that point.
Once a destination is selected the TomTom-licensed IQ Routes planner shows you options for the fastest, most economical, easiest and shortest route, after which a rather pleasant and fully-TTS enabled female voice provides guidance. For more complicated journeys, the route planner is not only flexible but very easy to use.
I need to say a little more about the quality of the vocal guidance here because, put simply, it is superb. From the option to have distances read out as fractions of a mile – rather than yards – to the excellent grammar, the new Mio Spirit 695 LM is a model of how this should be done. On a more practical note, this is the first satnav I have ever used that has provided entirely unambiguous guidance across my nearest – and rather complex – motorway junction. I'm impressed.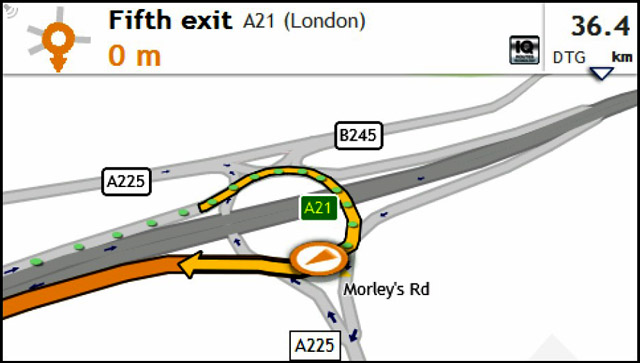 Map view steers you clear of confusion
Traffic congestion warning comes in the form of a free subscription to TMC, which, if not as advanced as TomTom's HD Traffic, is more than adequate for the vast majority of road users. It certainly spotted a closure of the Barton Bridge M60 flyover in good time and guided me around it.
One feature I don't recall coming across before is the tap of the top left hand corner of the map to repeat the last instruction. Handy if your passenger(s) won't shut up while you are driving. If you still miss what was said don't worry, the Tele Atlas maps are very easy to follow.