Emotional baggage
There's nothing quite like a well-packed lunch
---
Something for the Weekend, Sir? Two days before my teenage son was due to begin Sixth Form this week, the school phoned up to say that he's not allowed to study ICT at A-level.
This came as a bit of a shock since computing was going to be one of his principal subjects. He might not be one of those 'A-star' students that you read about on results day - jumping in the air, glimpse of naked midriff, masturbatory targets for Guardian readers - but we're talking about a kid who, for his eleventh birthday, asked for an ActionScript manual.
Were his GCSE results not good enough? Actually, they were fine. The reason he can't study ICT is that it would cause a timetabling problem at the school. "Can't be helped." Can't be arsed, more like. "Would he like to study something else [ie, useless, boring and irrelevant] instead?"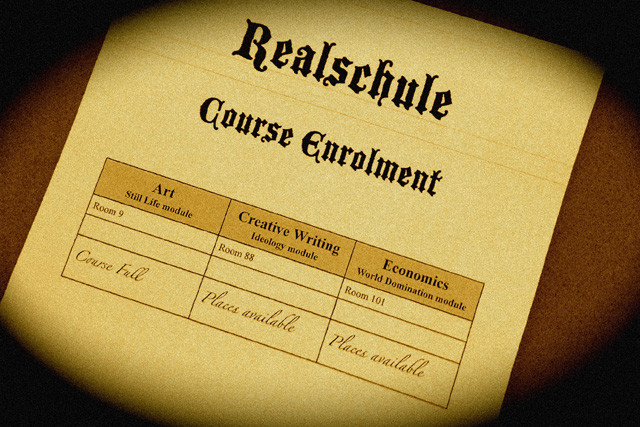 Getting a place on the right course can have a global impact
Imagine Hermann Einstein being told they've cancelled his son's Physics classes but there are free spaces in Synchronised Knitting. I mean, look what happened when they wouldn't let Adolf Hitler on the right course.
My ranting and raving fell on deaf ears, and my son has graciously agreed to sacrifice his future career in order to make life easier for the bone-idle twats in the school's admin department. He has switched to the highly valuable academic path laid by a combination course of Drama and Applied Shanking. He has effectively turned a crisis into a drama, ha ha, I'm so fucking hilarious.
I suppose this will at least ensure he is qualified for a job in the school's admin department. He has form too: only the day before school started, he told me his messenger bag was in tatters and he needed a new one.
Now, sod the A-levels, this is important. I take luggage very seriously indeed. As I may have mentioned once or twice before in every SFTWS column to date, I am an itinerant worker and so carrying lots of kit around with me is a necessary evil.
That very evening, my son was bequeathed my favourite laptop bag, one I used daily for four years. Its labels and logos have long since fallen off or worn away, and I can't remember which company made it. This is a bit of a bugger for the company since it was a corporate gift I picked up at the 2008 Macworld Awards. Bang goes their publicity.
Its best feature was a shoulder strap so wide and strong that I'd trust it to hold me while abseiling down The Shard with Prince Airmiles. Its one problem, hastening my decision to donate it to my long-haired and shamelessly multi-talented offspring, is that it only holds one laptop.
Bear with me. Remember when I slagged off the iPad 3 new iPad? And then I trashed Apple for replacing useful components in the MacBook Pro with a less-than-essential Retina display?
Naturally, I ended up buying both products in turn. What can I do? It's my job to use this stuff and it's my disposition to be critical of expensive things I pay for with my own cash.
My point is that I do not fit the stereotype of any executive carrying around nothing more than a laptop and a thin wad of PowerPoint printouts. For my sins, of which there have been many - and lots of interesting ones to come, I hope - tablet content development work requires me to lug around a lot of stuff. What stuff? Well, let's take a look at my current Targus rucksack.
Here's my MacBook in its dedicated pocket, along with newspapers: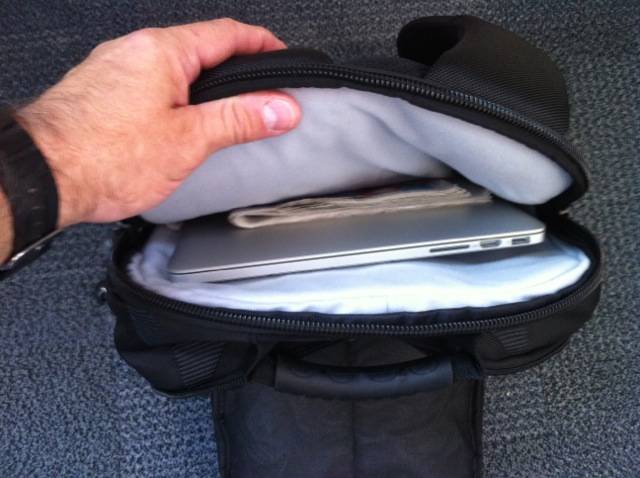 My partially broken Kindle just about squeezes in here, so I hope its replacement will fit too: