Emotional baggage
There's nothing quite like a well-packed lunch
---
Backpack to the future
My two portable storage drives - one for backup, the other exclusively for running Windows and Ubuntu under Parallels - go here: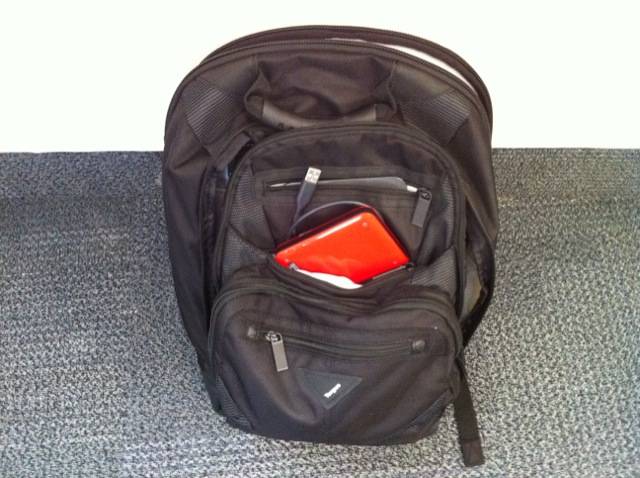 Add to this a shitload of cables and adapters, plus the external Blu-ray/DVD drive frustratingly missing from the MacBook and other things that I have found to be useful when you're on the hoof, such as stationery, wet wipes and spare shoelaces. An umbrella is hidden in a side pocket.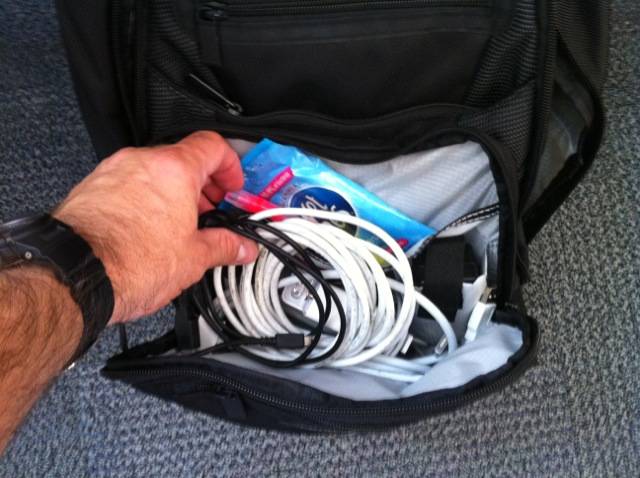 The largest compartment is forced to contain two iPads (a '2' and a 'new'), books, two notebooks of the traditional paper-based variety, and my packed lunch. Last month, I was working double shifts, so had to cram in lunch and dinner.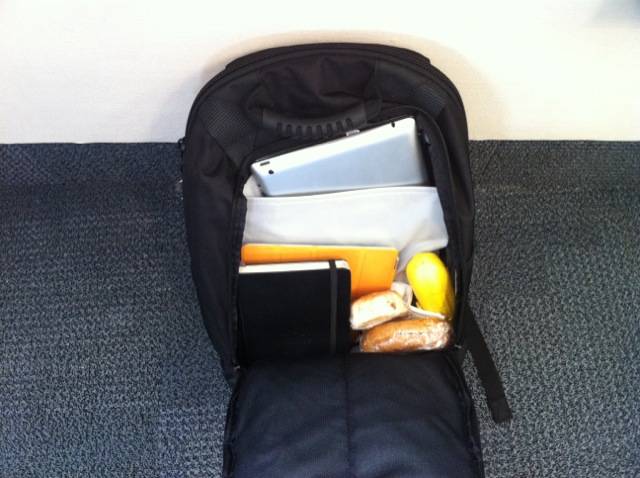 I'd love something better designed but thorough in-store testing - much to the annoyance of staff at PC World - leads to disappointment. Judging from the bags currently on sale, I gather that practically no one else carries more than one computer device, nor do they need space in that bag for their power cables, let alone tuna, ham and tomatoes in an onion bagel.
HP does an extensive line of laptop luggage, from simple sleeves to suitcases, and there are some pretty rugged shoulder bags with wide straps in the range.
I also like the look of Wenger Swissgear rucksacks despite having to put up with unfunny Arsenal jokes from colleagues every morning.
Unfortunately, these bags only give you one padded pocket. Unless I squeeze everything together into this pocket, all jangling around, bashing and scraping each other, my tablets still have to rub metaphorical shoulders with my lunch.
One answer might be an overnight travel bag, which offers additional protected compartments for shirt, shreddies and deodorant right up until the latter's confiscation by airport security. However, these ugly black cuboids are not comfortable to carry, and I'm worried that the ones with wheels will make me look prissy. I worked with someone who dragged her kit around in a Samsonite wheely case, and this bizarrely always made her look as if she was just about to leave the room – not a good look for a contractor.
As for Superdry laptop bags, don't even bother. What a load of crap they are: thin material, lack of padding in the base and a hideously enormous logo to identify you as the office chav.
The most thoughtfully designed bags are produced by Crosskase. I tried out the Crosskase Fusion, which has lots of compartments, including separate - and perfectly sized - laptop and iPad pockets, both well-protected. Unfortunately, none of the other pockets are fat enough for your sandwiches unless you don't mind them pancake thickness by lunchtime.
There's a lot more space for my bananaguard in the Crosskase Solar 15, which incorporates a solar panel, battery pack and a zillion adapters for recharging your gadgets, but unfortunately again, there's only one properly padded pocket.
One day, my ideal bag will come but it hasn't yet… unless you know differently? ®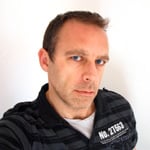 Alistair Dabbs is a freelance technology tart, juggling IT journalism, editorial training and digital publishing. He believes that one of the most valuable yet underrated perks of permanent employment is the provision of desk drawers with a lock. Imagine what it would be like if you had to carry the contents of these drawers to and from work every day...