After an intensive six-week registration drive, Google is reporting 180 out of a possible 202 districts of Kansas City have signed up for its 1Gb/s fiber network project.
"This number has blown us away – and it's not even the final tally," said Google Access general manager Kevin Lo. "We're still processing some final address verification requests and pre-registrations from apartment buildings and condos."
In order to qualify, the cities (Kansas City, Kansas and Kansas City, Missouri form one urban unit split across state lines) was divided into zones, which the Chocolate Factory has dubbed "Fiberhoods." If enough people register for the service and pay a $10 deposit fee, then Google commits to wiring up its libraries, schools, and community buildings and becoming an ISP.
Residential customers get a choice of packages, paying $70 per month for a symmetric 1Gb/s by wire, with a 802.11a/b/g/n router for 360Mbps of wireless, 1TB of cloud storage, and an IP4/6 firewall. For $120 per month subscribers get the digital TV package with a Nexus tablet, and standouts can choose a free 5Mbps download and 1Mbps upload "regular" broadband for seven years for a construction fee of $300.
While some businesses and wealthier residential neighborhoods got the requisite signups within a few hours, it's been a longer slog to get the rest of the area enthused about super-nippy internet speeds. Over a third of zones didn't make their numbers until the last week, and Google has made huge efforts to ensure that as many people as possible signed up.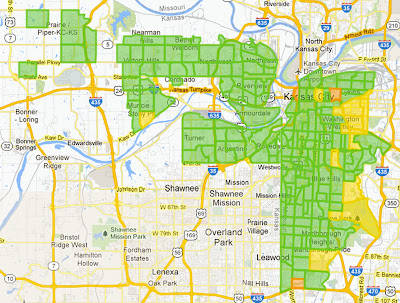 Over 80 per cent goes green
Staff have been going door to door, saturating the area with marketing and helping community groups and churches get out the word to motivate people into getting behind the plan. Google wanted a big turnout for its biggest experiment with its Fiber project, and it appears to have been successful.
On Thursday the company will release the final list of fiberzones, once final checking has gone through, but it is reporting that every school in the qualifying areas is now covered. It'll also specify how quickly the service can be rolled out, with the first connections expected by the end of this year.
In an interview last year Lo explained that he and Sergey Brin had come up with the fiber plan as a way to kickstart a shift in American broadband speeds without waiting for the government to get its act together. In comparison to the rest of the world, the US has been slipping when it comes to fiber deployment and broadband speeds, and something needed to be done, he said.
Part of the US lag is down to distance: there are huge empty chunks of the States that simply don't have the population density to support commercial investment in broadband. But there's also little competitive pressure to do so in a lot of other areas, as well. Most of the country gets a choice of a couple of networks, offering similar speeds at roughly the same price, with competitors squeezed out.
By showing people what really fast speeds are like, Google is hoping to drive things forward again – and it appears to have had results. Last week, Time Warner Cable announced a $25m plan to fiber- up lower Manhattan and parts of Brooklyn in New York for, coincidentally, 1Gb/s connections. Over two-dozen colleges have also laid plans for gigabit speeds, in addition to the Google Fiber network at Stanford.
Whether or not Google's latest experiment in fiber can spawn a renaissance in US internet speeds remains to be seen, but the project has strong support among senior management and the company is trying to make it a paying proposition – albeit on what looks like razor-thin initial margins.
But the potential payoff could be huge. The shift from dial-up to broadband sparked a huge change in internet behavior, as connections shifted from something you requested to an always-on service. The result was a huge boost to online commerce and, arguably, a boon to society as a whole. ®
Similar topics