This article is more than 1 year old
Oracle hits reboot on Itanium software development
Back to HP-UX business
Software giant and systems player Oracle has restarted software development for Itanium-based machines. That sound you hear is a sigh of relief from HP-UX system customers the world over and from Hewlett-Packard, whose Integrity and Superdome servers fell off a cliff, in terms of sales, after Oracle pulled the plug on Itanium development 18 months ago.
Back in March 2011, Oracle dropped an iceberg in front of the good ship Itanic, following Red Hat and Microsoft in cutting off support for HP and Intel's Itanium chips.
HP's NonStop and OpenVMS environments, and a few proprietary mainframe platforms in Europe and Japan, have been ported to Itanium. However, HP-UX is the dominant operating system on Itanium gear so far, and the heart of what would have been a $5bn-a-year Itanium server business (by HP's own math) with net profits north of $2bn a year, that is – if Oracle hadn't made Itanium customers anxious.
Oracle contended that HP and Intel were going to sunset the Itanium chips and were not telling customers. HP shot back that an agreement signed between the two companies, allowing for Mark Hurd to jump from the chairman and CEO position at HP to the co-president position at Oracle in the summer of 2010, also committed Oracle to continue developing on the Itanium platforms. HP sued Oracle in June 2011 for not honouring that contract and not providing sufficient tech support to existing customers. Oracle counter-sued HP in December 2011, saying the Hurd agreement ensured no such thing, and charged HP with fraud, defamation, intentional interference with contractual relations, intentional interference with prospective economic advantage, and a bunch of other allegations.
In an extremely enlightening move – for us on the outside of the IT vendor walls anyway – Oracle released a slew of internal documents from Intel and HP in May of this year, which Oracle got through document discovery, showing that not only had HP started and spiked at least two different ports of HP-UX on Itanium. Those documents also showed that Intel was not happy about continuing development of the Itanium chip and was asking HP to pony up hundreds of millions of dollars to cover the costs of each generation of future Itanium processors.
At the end of May, the trial between Oracle and HP over the fate of Itanium systems began, and a few days later, new HP CEO Meg Whitman made a slip of the tongue and told the Wall Street Journal: "Ultimately we've got to build Unix on an [Intel] Xeon chip, and so we will do that."
This created a PR nightmare, since this is precisely what HP is not going to do with "Project Odyssey", which seeks to beef up Linux and Windows on Superdome-like Xeon servers and leave HP-UX - Whitman's idea of "Unix" - marooned on Itanium. Hewlett-Packard's most recent plan just before Oracle dropped the bomb in March 2011, as El Reg revealed at the time, was called "Project Kinetic", and the aim was the development of a long-sought common socket for Itanium and high-end Xeon processors, with Linux, Windows, and HP-UX all sitting side-by-side on common system boards.
In early August (while your humble hack was on holiday, of course), Judge James Kleinberg of the California Superior Court in Santa Clara ruled in HP's favour on the breach of contract claims, saying that any and all software that Oracle had available on 20 September, 2010, when the Hurd agreement was signed, including future versions, had to be released for Itanium-based machines.
Having decided there was a breach of contract, it is now up to a jury in the California Superior Court to figure out if the breach caused damages, and to assess those damages.
In the meantime, Oracle is getting back to work, as it said in its statement, which came out two years after the Hurd agreement:
Previously, Oracle announced that it would stop developing new versions of its software on Itanium microprocessors. For example, that meant version 12c of the Oracle database due out in early 2013 would not be available on Itanium. However, a judge recently ruled that Oracle has a contract to continue porting its software to Itanium computers for as long as HP sells Itanium computers. Therefore, Oracle will continue building the latest versions of its database and other software covered by the judge's ruling to HP Itanium computers. Oracle software on HP's Itanium computers will be released on approximately the same schedule as Oracle software on IBM's Power systems.
It will be interesting to see if the decision by the court will have a salubrious effect on HP-UX system sales. The Oracle iceberg certainly had a chilling effect on HP-UX system sales in the past two years: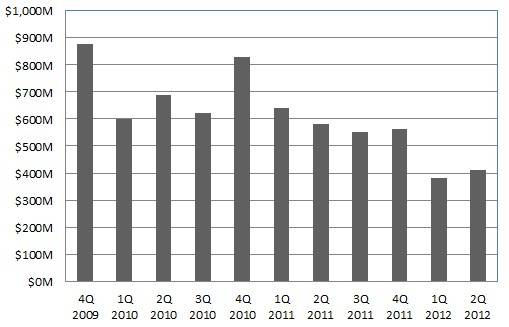 HP-UX system sales, Q4 2009 through Q2 2012 (Source: Gartner)
If you crunch the numbers, and assume that HP-UX server sales might have held steady and competed better against IBM and Sparc-based machines from Oracle (which have their own issues), then HP has lost about $875m in revenues in its HP-UX system sales since Oracle said it was not going to support future or current Itaniums with its future software. Given the decline in Unix system sales, that is probably too high.
Intel has done the bare minimum to help bolster HP's case, merely reiterating that it has 32-nanometer "Poulson" Itanium 9500s processors on deck and then a kicker "Kittson" Itanium using 22-nanometer processes after that. People are pretty cynical about what Kittson might or might not be at this point, Intel has said nothing and HP has similarly been mum except to bring up Project Kinetic and the common socket.
Most of us out here in server land think Kittson was supposed to slide into a common socket shared with future Xeon-EX processors but that that plan has been dropped in favour of making Kittson fit in current Itanium 9300 and 9500 sockets. Nobody is saying at this point, and we'll try to get some insight at Intel Developer Forum this week.
Also, consider this: how good does court-mandated support for a platform have to be? Who gets to decide that? Oracle or HP?
No matter what, there is still money to be made by Intel, HP, and Oracle in the Itanium server racket. There always was, but now there is less for everyone now that Oracle got the customers rattled. If Oracle had been thinking this might help bolster its own Sparc/Solaris sales, that sure hasn't happened. It is less clear if HP-UX shops started looking at Exadata and Exalogic x86-based "engineered systems" from Oracle as replacements for HP-UX systems. That seems far more likely. ®