Acer racks up Xeon E5s, picks fight with US server bad boys
From little seeds giant oaks shipments grow
It has been a while since Taiwanese server and PC maker Acer has made some noise in the server racket, but the company is plodding along after planting its seeds on United States soil in February 2011 with a revamping of its Xeon-based servers.
Acer targeted Europe first – back in March 2010 – as the flag bearer for Advanced Micro Devices' Opteron 6100 processors in its F1 series of machines, which were eventually expanded to include Intel Xeon machines. This time around, with the F2 machines launched by Acer America concurrently with the Intel Developer Forum in San Francisco, Acer is starting out with the Xeon E3 and E5 chips from Intel. The launch of the F2 machines in the US is also timed to come in the wake of Microsoft's launch of Windows Server 2012, and all six of the new machines are certified to run the shiny new operating system.
With the new machines, Acer is going for the belly of the market, with three of the new F2 machines based on the "Sandy Bridge-EP" Xeon E5-2600 server chips that were announced in March by Intel and three others aimed at the S in SMB market using the "Ivy Bridge-HT" Xeon E3-1200 v3 processor.
The two-socket Xeon E5 machine is the workhorse of the data center the world over, so it is no surprise that Acer is concentrating here. It remains to be seen what other Xeon or Opteron chips Acer will use in future machines, but as an upstart trying to take on the incumbents in the North American, European, and Asian markets all at the same time, Acer has to pick its targets – and its partners – carefully. The one thing that it cannot afford to do is spread itself out too thin.
The Xeon E3 chip is designed for customers who need modest and cheap computing (essentially being a server variant of the Core i7 chip for desktops), so this is also not s surprising move. As a major player in desktop and laptop PCs, Acer has just as much of a chance as any of the other PC players to take some share in the server racket, particularly since Acer is not interested in selling directly and relies solely on channel partners to push its server iron.
Acer gained a fledgling server business in the United States when it acquired Gateway back in August 2007 and also sold its own Altos brand of machines in Asia and Europe. But a year-and-a-half ago, as the profits were under pressure in the PC business, the company threw down the gauntlet with its F1 generation of machines. Acer started with a big splash with Opteron 4100 and 6200 boxes the very same day that AMD rolled out those chips – Acer said at the time that it was going to storm both Europe and North America with the F1 machines. The server lineup was eventually fleshed out with Xeon 5600 gear, and Acer and its partners got down to peddling boxes.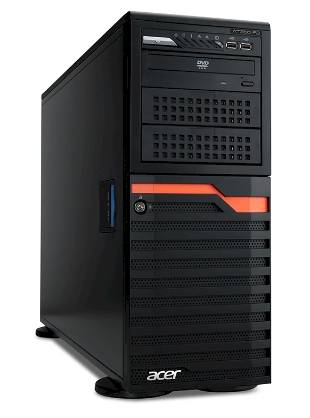 The AT350 F2 tower of Xeon E5 power
Kamesh Ramalingam, product manager for servers and thin clients at Acer America, tells El Reg that while Acer is growing from very small numbers in the United States, it has seen good traction. He said Ingram Micro and Synnex were its main distributors, but other channel partners – many of whom don't get enough action from the top-tier server makers, who sometimes hog the juiciest deals for themselves – are helping the Acer server segment grow anywhere from 20 to 30 per cent month-on-month. That is a lot of growth for any market, and somewhat astonishing for the stodgy server racket.
Part of the reason why Acer is getting uptake in the United States has to do with nationalistic tendencies; Acer works with original design manufacturers in northern and southern California to do server assembly in their facilities on a contract basis. Because of this, Acer America can chase deals with local and state governments, research facilities, educational institutions and tout its "made in America" bona fides.
Acer also competes hard on price. "We show a 15 to 22 per cent lower price in configured systems at the channel level, and that's huge," brags Ramalingam. The way Acer does this is simple. Unlike its tier one rivals who pump products through the channel, it doesn't offer a cheap initial configuration and then gouge customers for additional memory, disk, and other peripheral components they add to those boxes - what Ramalingam calls the "brand tax."
Acer is also proud of the fact that it is a hardware company and, to that end, it designs its own motherboards and systems even if it does farm out the manufacturing in the United States. "HP and Dell are moving more and more to services and we are focusing more and more on hardware," says Ramalingam. Hence the expansion out from PCs to servers. And not just workhorse servers, but a full catalog of rack, tower, blade, and modular server designs as well as blade servers aimed specifically at supercomputing workloads.
The new boxes
The 100 series machines are entry boxes aimed at SMBs and branch offices, the 300 series are value boxes aimed at penny-pinchers who nonetheless need more performance, and the 500 series packs more oomph in the boxes.
Acer America is putting out three racks and three towers sporting the Xeon E3-1200 v2 and E5-2600 processors today. Let's start with the single-socket Xeon E3 boxes and work our way up to the dual-socket Xeon E5 machines.
The AT110 F2 is a tower machine (as the T in the name suggests) and uses Intel's "Cougar Point" chipset, the C202 variant to be specific. It can take either the Xeon E3-1200 v3 or the Core i3 desktop processor as its one and only engine. The machine has four DDR3 memory slots, with error correction on the memory (important for server workloads), a top speed of 1.33GHz, and a maximum of 32GB of capacity. The AT110 F2 has six SATA ports and with the software RAID that is part of the chipset from Intel, customers can add RAID 0, 1, and 5 data protection to their storage. The machine has four 3.5-inch disk bays and tops out at 8TB of capacity. The box has a single Gigabit Ethernet port, one old-fashioned PCI slot, and three PCI-Express 2.0 slots; it sports a 450 watt power supply. Microsoft Windows Small Business Server 2011 Essentials, Windows Server 2008 (both the original and the R2 update), and the new Windows Server 2012 can all be loaded on the box – Red Hat Enterprise Linux 6, and SUSE Linux Enterprise Server 11 are also supported if you want penguins instead of panes. It has a starting street price out of the channel of $699, including a one-year warranty that offers next business day on-site support.
The AT310 F2 takes this tower up a notch to the C204 chipset for more peripheral expansion. It offers the same Xeon E3 and Core i3 processor options and the same memory configuration, but has two Gigabit Ethernet ports on the system board. The disks are hot swappable, unlike with the AT110 F2, but you are still limited to four drives and a maximum of 8TB of capacity using 2TB SATA drives. This tower has two of the ancient PCI slots (which many penny-pinchers still need because old peripheral cards and peripheral devices like tape backups still work just fine, thank you very much) as well as three PCI-Express 2.0 slots and one of those new-fangled PCI-Express 3.0 slots if you feel the need for peripheral speed. This machine has redundant system fans, two 400 watt power supplies, and a three-year warranty. Windows Server 2008 and 2012 are certified on this box, and so is RHEL 5 and 6 and SLES 10 and 11. Channel partners have marked the starting price as $999.
The AR320 F2 is a chopped-down version of this AT310 F2 box that is tweaked so it will fit into a 1U rack chassis. Other than having only two PCI-Express 3.0 slots, the feeds and speeds of this Acer rack machine – including operating system support – are the same as its tower sibling. It costs $1,199 in a base setup.

Acer's AR360 F2 Xeon E5-based rack server
Now, for the new Xeon E5-2600 machines from Acer. All three boxes – that's one tower and two rack machines – are based on Intel's "Patsburg" chipset, the C606 version. All three boxes have eight DDR3 memory slots and top out at 384GB of capacity across those two sockets; you can use 1.07GHz, 1.33GHz, or 1.6GHz memory sticks. These boxes also have an on-board SAS/SATA disk controller with eight ports that offers RAID 0, 1, and 10 protection; Acer has an optional SAS RAID controller with 4, 8, or 16 ports that supports just about every RAID variant you might ever need. These three Xeon E5 machines also have four Gigabit Ethernet ports on the mobo and redundant fans. They all can run Windows Server 2008 or 2012, RHEL 5 or 6, and SLES 10 or 11, like the fatter Xeon E5 machines. But these Xeon E5 machines are also certified to support VMware's ESXi 5.0 and Citrix Systems' XenServer 6.0 server virtualization hypervisors.
Here's how the three Acer Xeon E5 machines differ from each other.
The AT350 F2 is a tower machine that can have up to eight 3.5-inch disks or up to sixteen 2.5-inch drives, for a maximum capacity of 16TB. This server has six PCI-Express 3.0 slots and one or two 920 watt power supplies. It starts at $1,699 in a base configuration.
The AR360 F2 is a 1U rack box, and therefore does not have a lot of room for peripheral expansion. It supports up to eight 2.5-inch drives for a max capacity of 8TB, two PCI-Express 3.0 slots, and has up to two 700 watt power supplies. This one costs $1,799 for an initial setup.
The AR380 F2 is essentially the AT350 F2 machine packed into a 2U rack chassis, but limited to only 2.5-inch drives (up to sixteen for a max of 16TB). It has the same pair of 920 watt power supplies and the same six PCI-Express 3.0 slots. It costs $1,799 as well.
The new Xeon boxes come with Smart Set-Up, a server configuration tool from Acer, as well as Acer's Smart Console, which allows for out-of-band and remote management of the boxes. The higher-end machines can also run Smart Server Manager, which monitors up to 250 machines and has a plug-in to Microsoft Systems Center. Acer has also created its own power-capping software to throttle the juice used by clusters of machines to keep them within a data center's power budget.
Ramalingam says that these six new Xeon machines were snuck out in August in Asia and Europe. Acer has still not decided what it will do with the Xeon E5-2400 processors, which have less expandability than the E5-2600s in two-socket boxes, or the Xeon E5-4600, which scales the Xeon E5 design up to four sockets in a single system image. These processors were both announced in May and are making their way into systems now. Mum is also the word on future "Piledriver" Opteron 3300, 4300, and 6300 processors from AMD. ®