Everything Everywhere is no more: long live EE and 4G. The mobile operator now gets to watch its children, Orange and T-Mobile, starve to death as they're denied access to the 4G feast.
London's Science Museum played host this morning to the launch of "EE", which has a new logo, a UK exclusive on 4G and will be selling domestic fixed-line broadband as well as mobile connections, all wrapped up in enough hyperbolic whitewash to make guest speaker Boris Johnson seem restrained and coherent.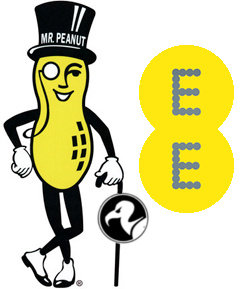 The one on the left is the new EE logo,
the chap on the right has better taste in hats.
We'll come back to the marketing excesses shortly, but between the balderdash there was some news which is worthy of note.
This morning EE has switched on its 4G network in four UK cities, but it won't be available to customers for another few weeks following extensive testing. Orange and T-Mobile will continue to exist as brands, but all 700 stores will be made over to EE and "EE" will be the network ID on handsets. Orange and T-Mobile customers will also be restricted to the existing 3G network, allowing EE to bump up the price of 4G when customers upgrade, as well as abandoning the Orange and T-Mobile brands to a slow death as customers seep away.
Those wanting 4G will be able to get handsets from Huawei, Nokia, HTC and Samsung, with heavy hints about the forthcoming iPhone, but hints are easily dropped.
By Christmas EE is promising 4G in 16 cities, and across all of London (though we don't know quite what that means yet). By the end of 2013 the network will cover 70 per cent of the population, and a year later 98 per cent – by which time there will be little point in customers opting for Orange or T-Mobile contracts.
EE won't just be mobile though, by the end of next year it will be offering fibre-optic connections to 11 million UK properties, though which properties, what speeds and how exactly all remain to be revealed.
But the launch was mainly about how bloody marvellous 4G is, and how bloody grateful we should be that EE is making it happen. We're told that the ability to download web pages faster is a technical jump comparable to the development of the jet engine, that the deployment of 4G in the UK is as important as the road network, the rail network and the airports all combined, and that "superfast" 4G will even make video calling a reality!
"We're grateful to be unveiling British innovation here at the Science Museum," the assembled press were told, implying that we should rejoice in a foreign-owned company that has been given a monopoly on next-generation telecommunications - and has decided to change its logo to a naked Mr Peanut, the spokes-nut of American snack-food biz Planters. Either that, or its designers were channelling a certain 1992 dance chart hit. ®