This article is more than 1 year old
Blighty battles Oz for stratospheric supremacy
Amateur ballooning rivals meet for head-to-head showdown
Pics The friendly rivalry between Brit and Oz amateur High Altitude Ballooning (HAB) enthusiasts hit new heights over the weekend when the two nations went head-to-head in a stratospheric clash of high-altitude titans.
Raspberry Pi In The Sky chap Dave Akerman met his Antipodean opponent Mark Jessop in a Cambridgeshire field to determine just whose payload would take what we have dubbed the "HAB Ashes".
In August last year we reported how Mark - a University of Adelaide electronic engineering alumnus - took the UK record with an ascent to 40,575 metres (133,120 ft) while on a trip to the Mother Country to participate in the UKube-1 satellite project with the University of Bath.
He almost provoked a serious Oz-Pom diplomatic incident by telling El Reg he didn't partake of the local ale in celebration, because "I much prefer Australian beer".
In December, Dave reclaimed the UK altitude record when he hit 40,986m (134,486ft) en route to a payload touchdown in Belgium. He declared: "I can report that Belgian beer is much better than that weak Aussie stuff :-)"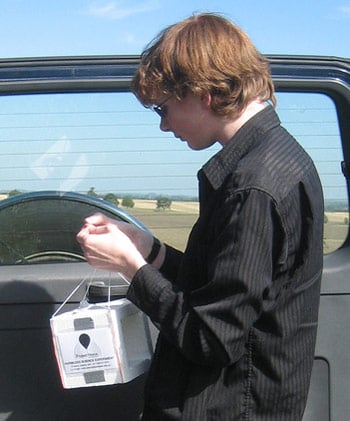 So, the scene was set for a decider, and perhaps the opportunity to convince Mark of the error of his ways in his drinking habits. In Cambridgeshire on Saturday, the Aussie (pictured) deployed his Horus 28 "Millinut" payload, which he described as "a test of a combined telemetry (position, temp, etc) and uplink payload".
He elaborated: "I can send it commands from the ground, to get it to perform tasks such as change the data rate, or turn on a nichrome wire to cut the payload away from the balloon. I've been flying a similar uplink system on the last few Project Horus flights in Australia, but this is the first time I've had it reporting position as well."
The Millinut was up against the Cloud 7* mission package, originally designed to be just a tiny tracker, but, "seeing that Mark's payload was going to be a lardy 150g, and knowing that I was going to have an unfair advantage with my hydrogen cylinder versus his helium one, I decided to even the playing field a little by adding a camera to mine," Dave explained.
Even with a Canon A495 stills camera thrown into the mix, his payload – including its polystyrene globe enclosure – weighed in at a mere 185g: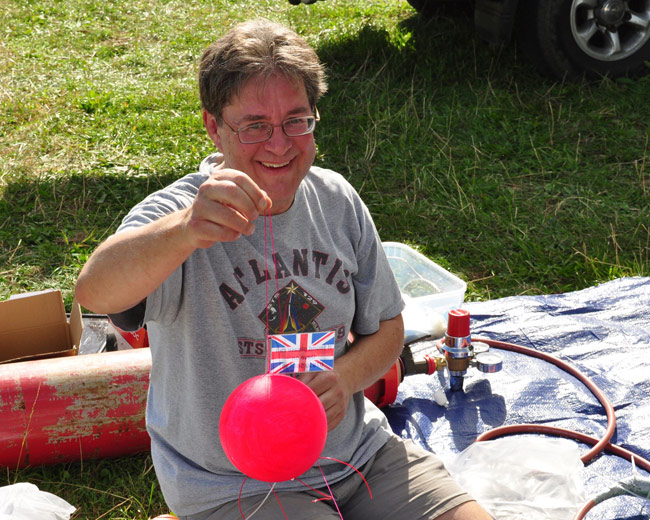 The Cloud 7 tracker board was supplied by Anthony Stirk, who'll be familiar to Reg regulars as the architect of our Low Orbit Helium Assisted Navigator (LOHAN) mission electronics. "Us Brits have to stick together to make sure we beat Johnny Foreigner," Dave noted.
Here's the scene on Saturday morning, as Dave filled his mighty orb with hydrogen, and the helium-filled globe for Mark's "lardy" payload began to engorge: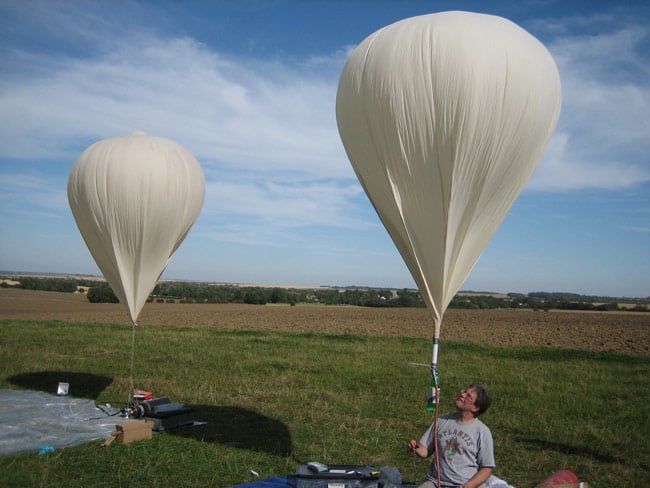 Both balloons were launched simultaneously...
...and Dave's decision to pack a camera quickly began to pay dividends: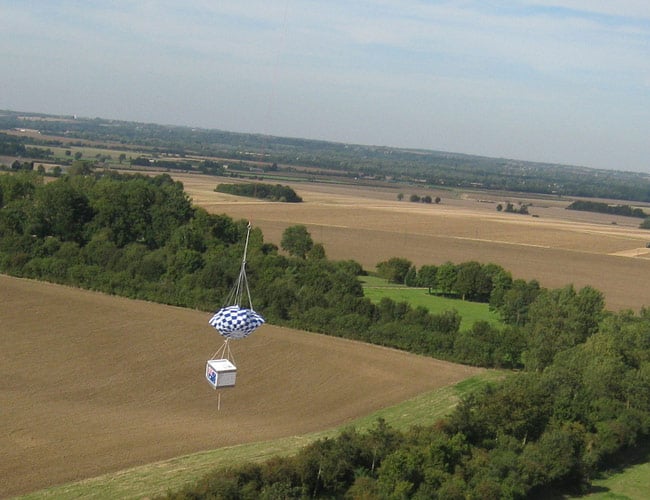 That's the Horus 28 payload just after launch, but as the two missions soared heavenwards, the Cloud 7 continued to capture its rival's ascent. Here it is with RAF Lakenheath and RAF Mildenhall below: