Blighty battles Oz for stratospheric supremacy
Amateur ballooning rivals meet for head-to-head showdown
---
The money shot, though, came at 34.8km (114,173ft), when Mark's orb was snapped at a distance of around 1.2km (3,937ft), having expanded to an estimated diameter of 10m (a tad under 35ft):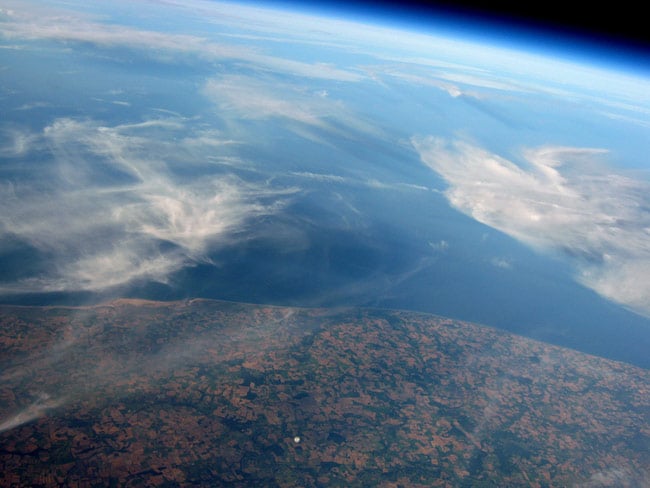 Dave enthused: "The best part of the day was seeing those amazing images of his balloon from the camera below mine. We hoped there would be a few taken during the initial ascent as the two balloons kept such close company, but we weren't at all expecting to see such photographs from up to 34.8km."
The Cloud 7 camera also captured some spectacular scenery...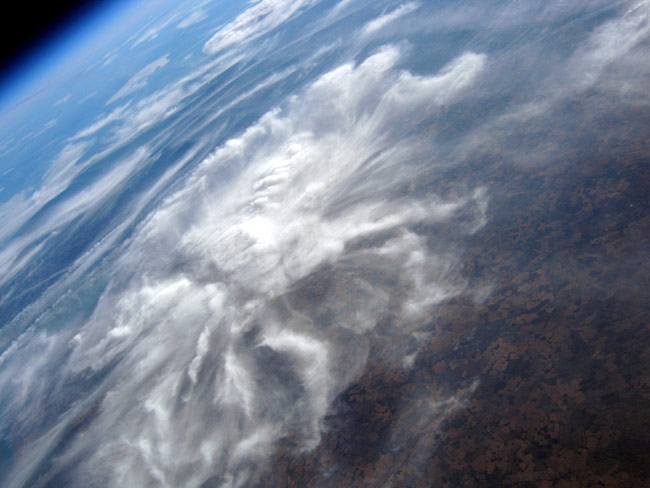 ...before coming down in a field south of Attleborough, Norfolk: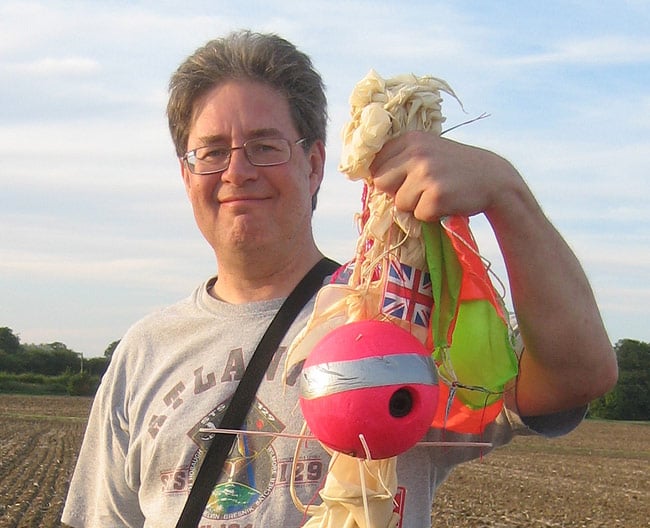 Mark recovered his Horus 28 close by: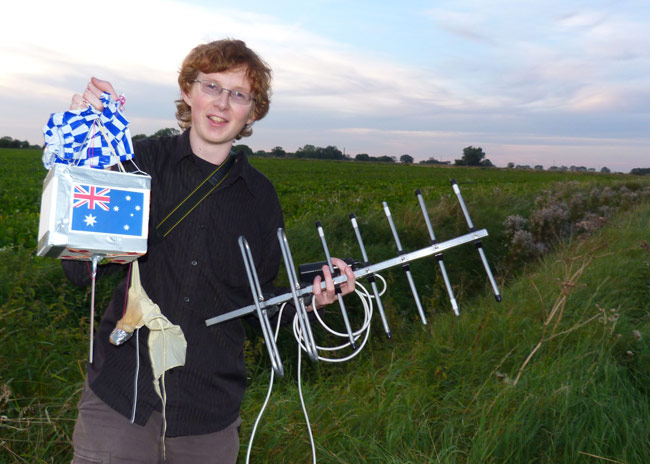 Yes, yes, we hear you cry, but in whose trophy cabinet are the HAB Ashes now sitting? Well, Horus 28 topped out at 40,449m (132,700ft), while Cloud 7 hit 40,570m (133,100ft).
That, ladies and gentlemen, means Britain pipped Australia to the post by a mere 121m (397ft).
A triumphant Dave Akerman told us: "It was of course good to beat my old foe yet again, though really with hydrogen my balloon should have whipped his balloon all over the sky. Still, a win is a win even with such a small margin! No doubt he will spend the next few months plotting revenge before he returns to the UK next summer."
Mark described himself as "not gutted at all – it was too much fun for that". He said: "I think the best part of it was seeing images of my balloon taken from Dave's camera payload while at 34.8km altitude. I'm not sure if that's been done before."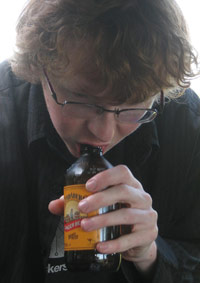 He noted: "I will point out that his balloon burst 5m lower than my last UK launch attempt, which got to 40,575m (133,120 ft). The current altitude record stands at 44,379m (145,600ft), so we're both still a way off from that!"
Regarding the delicate matter of ale, Mark reported: "I haven't had any beer since I've been here, apart from some Aussie Bundaberg Ginger Beer, which Dave happened to have a stock of."
Dave described this suspect beverage as "the drink of losers :-)", and was able to provide us with exclusive proof of the outrage, as Mark copped a crafty quaff of said libation.
According to the manufacturers, Bundaberg Ginger Beer is "brewed to a genuine old recipe to release the natural flavours of ginger".
Apparently, the brew contains "no artificial colours or flavours". It also contains no alcohol whatsoever, meaning that despite its "superior taste", it won't be making the list of approved LOHAN beverages. ®
Bootnotes
*The Cloud missions are named in honour of Bryan Cloud. Dave said of his father-in-law: "He was keen on photography and space so I name all my photo payloads after him. He died in 2004 and I'm sure he would have loved to get involved in this new hobby of mine."
All the above photos are copyright Dave Akerman. We thank him for permission to reproduce them here.