This article is more than 1 year old
Viewsonic 22in Android 'tablet' hands-on review
Passes the Google test and then some
First look There was birthday cake aplenty at Viewsonic's 25th anniversary event in London today that also saw the introduction of three new products covering an innovative range of display options.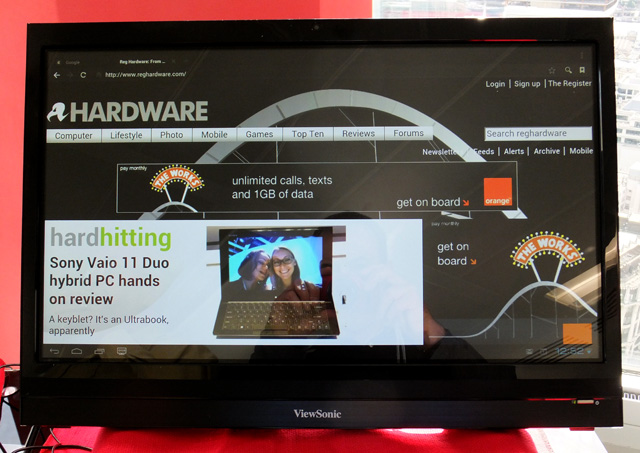 Viewsonic's VSD220 Smart Display: 22in fondleslab, anyone?
The main attraction was the VSD220 Smart Display which is the first Android device of its kind to receive the official thumbs up from Google, its GMS certification enabling access to the Play Store. Now this Viewsonic appears to be just another 1920 x 1080, 22in touchscreen monitor, but it actually houses a 1GHz dual-core Texas Instruments OMAP 4 CPU and runs Android 4.0.4.
So it's a massive tablet? Well yes, and no. Sure it'll be a bloody big tablet if you want it to, but the thinking goes beyond this as it is designed to offer connectivity with cloud content using its embedded tech. As James Chu, Viewsonic's CEO and founder remarked, "We believe the future will be display plus cloud" emphasising how most users don't really need a dedicated computer to satisfy their daily tech needs, as indicated by smartphone and tablet use.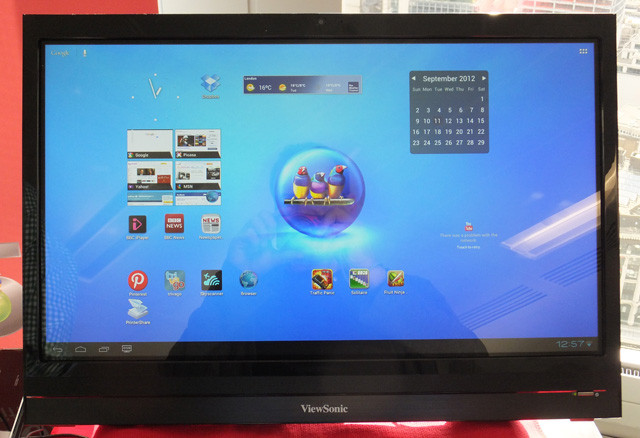 Embedded computing has been a feature of commercial digital signage for some time, but rather than bolt on a low power WinXP box, the Android and mobile CPU option delivers a more consumer-friendly way forward. So this is an iMac lite of sorts? Well yes, and no.
Its combination of USB on-the-go and HDMI enables its touchscreen to control connected Android and Windows 8 devices too. If you just use HDMI, then all you get is the sound and picture. Use both together and suitably equipped handheld devices can go large on the VSD220 Smart Display.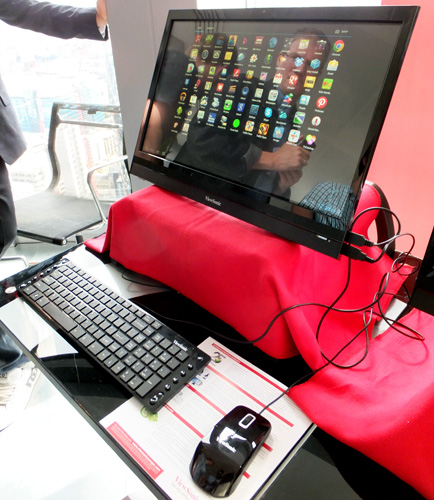 The display has all the usual bits and bobs – webcam, mic, speakers 2.4GHz 802.11n Wi-Fi, 10/100Mb/s Ethernet, Bluetooth, microSD card slot, HDMI and 3 x USB 2.0 – and, in use, the screen was bright, clear and pretty darned nifty when responding to touch. No extra pressure required or missed prods and if you grow weary of poke and swipe, you can even connect up a keyboard and mouse to – just like old times, eh?
Now given it's based on mobile tech, with an update or two will this Smart Display crawl along like most handsets do 18 months down the line? When asked about Jelly Bean, Brian Wei Viewsonic Europe product marketing director, replied "4.1 – we're looking into it." So maybe not and like embedded systems of old, you'll get what you're given.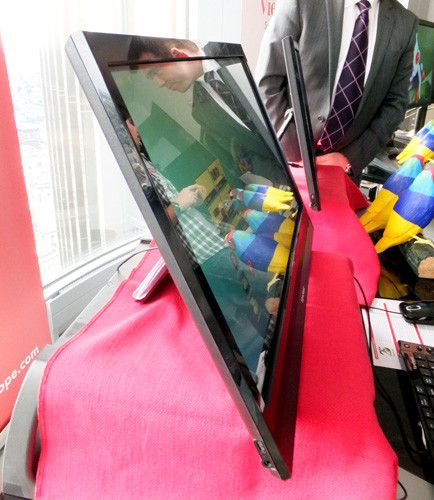 The VSD220 Smart Display will cost ya £359 when it appears next month, which is cheaper than most tablets and smartphones too, although there's no Sim slot here.
Other products on show were Viewsonic's Pro9000 home cinema projector. This full HD model utilises laser and LED hybrid 'lamp-free' tech and notches up 1600 lumens and a 100,000:1 contrast ratio. The company claims lower power consumption and 20,000hr lamp illumination life, around five times more than conventional lamp projectors.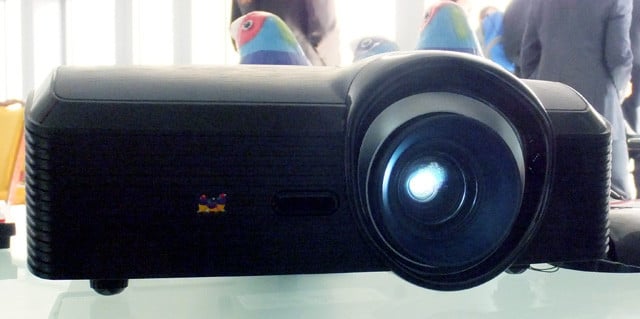 The Pro9000 interfacing includes all the usual suspects – HDMI, VGA, S-video and composite – with audio too, including two token speakers, as most will hook up to home theatre audio. Yet given the notion that the future according to Viewsonic was to be display plus cloud, it was surprising that this model offers no additional interfacing for such, not even USB, alas. You'll need to take a look at the company's more business orientated projectors for those niceties. The Viewsonic Pro9000 is available next month and will retail for a round £1599.
Another product due in October is the company's VP2770-LED display 27in monitor. This is a product that is definitely rooted in the present. No fancy embedded display plus cloud options here, just a WQHD (Wide Quad High Definition) 2560 x 1440 resolution IPS display. It's not a million miles away from LG's recent EA83 widescreen offering either.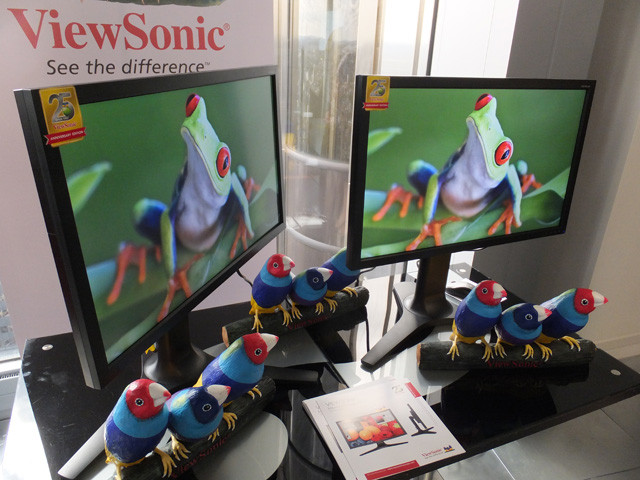 Quite a picture from any angle
Viewsonic reckons its baby has top notch viewing angles with minimal colour shift and, on show, it seemed pretty good in all respects. The display supports 10-bit colour and features DisplayPort, HDMI, Dual-Link DVI and VGA, plus four USB ports (2 x USB 3.0 and 2 x USB2.0). The Viewsonic VP2770-LED will set you back £459.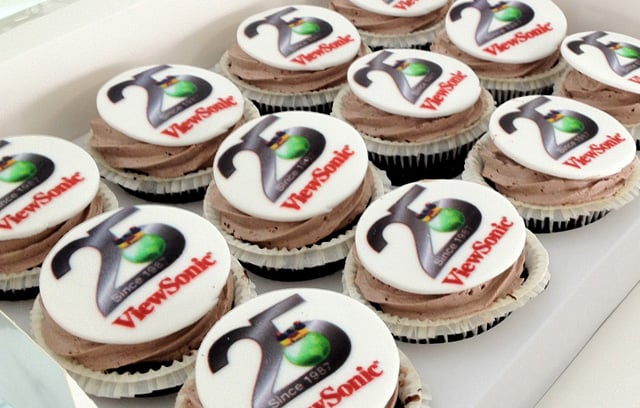 Happy birthday Viewsonic. ®