In his first big interview since taking Facebook onto Wall Street with all the savoir-faire of a tramp in a dirty Santa outfit, internet billionaire Mark Zuckerberg has confessed that his company must do better. He added that performance of the free-content ad firm's stock "has obviously been disappointing".
The 28-year-old exec admitted that the tanking of Facebook's shares since the IPO - the value of the company has halved - was likely to lead to "some people" quitting the company.
Zuckerberg, who was chatting on stage with famed blogger Michael Arrington, said Facebook's troubled float onto Nasdaq was "not the first up and down that we ever had".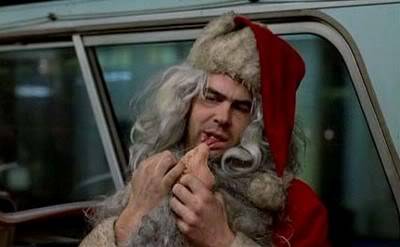 A famous movie depiction of a financial wizard for whom things start going inexplicably wrong
The copper-haired, grey-shirted, trainer-shod CEO of the world's dominant user-content ad platform added that he was a pint-half-empty kind of guy - and that pessimism applies to how he does business, too.
"I would rather be underestimated," he said. "I think a bunch of people are underestimating us."
Zuckerberg also said designing a Facebook mobile phone would be "clearly the wrong strategy for us". He did insist, however, that while the company was going in the "opposite direction" to Apple by not having its own hardware, "no one is more integrated" in the mobile web than his network.
He also teased that his website was "uniquely positioned" to build its own search engine, and reiterated that he had "a team working on it".
Microsoft has an exclusive deal with Facebook to power the network's search system with Bing, and the pair have been strengthening that partnership. Most recently Facebook began allowing its nearly 1 billion-strong global userbase to find photos in Bing that had been uploaded to the social network.
Earlier this year, the New York Times reported that Zuckerberg declined to take Microsoft's kind offer to offload its Bing technology onto Facebook in 2011. The proposal supposedly came from some unnamed Redmond wonks and had not been sanctioned by MS honcho Steve Ballmer.
But there have been clear indications that Facebook is indeed beavering away at search, having poached Google Maps maker Lars Rasmussen, who defected to FB in October 2010. He has been working on the project with about 25 engineers. They are said to be focusing on making Facebook return more intelligent results to search queries, and the firm's "Like" button used to punt advertisers' brands is apparently the centrepiece of that action.
Zuck's appearance on stage pumped Facebook stock up by nearly 5 per cent in after-hours trading. After all, it's what Arrington does best. Now, if only the Facebook boss would come and have a cosy chat with us vultures ... ®
Similar topics