This article is more than 1 year old
New guide: Bake your own Raspberry Pi Lego-crust cluster
'And here's one we made earlier!'
Pics Scientists at the University of Southampton have built a "supercomputer" from Raspberry Pis lashed together to form a colourful data-cruncher.
Professor Simon Cox and his team racked up 64 credit card-sized Pis using Lego building blocks to create the parallel computer. They named their beast Iridis-Pi after the university's Intel-powered 72-teraflops supercomputer, Iridis.
Here's a photo of their very modest super in all its Pi-and-brick glory: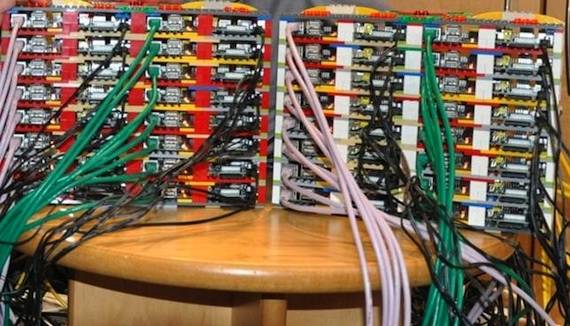 Back of the net: Ethernet cables running to Iridis-Pi's nodes
The cheapo cluster has 1TB of storage, thanks to the 16GB SD card inserted into each board, and 16GB of RAM. Each Pi is connected by 100MBit Ethernet, and is powered by a Broadcom BCM2835 graphics chip that handily features a 700MHz ARMv6 processor core.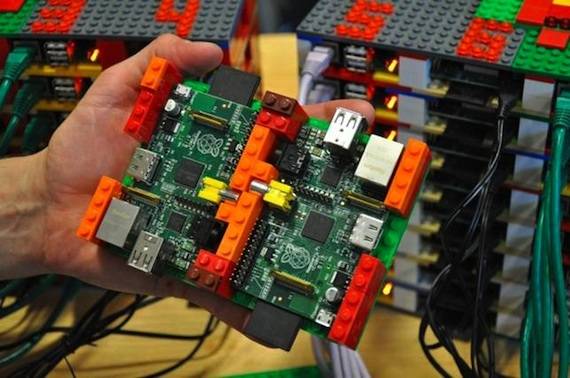 A two-Pi unit from the Iridis-Pi 'supercomputer' (Pictures by Prof Cox)
The Debian GNU/Linux cluster runs off a single 13-amp mains plug, and uses the Message Passing Interface (MPI) protocol to manage the communications between each of the 64 nodes. Professor Cox wrote the control code in Python using Microsoft's Visual Studio.
Prof Cox estimated the whole caboodle cost under £2,500, not including the network switches.
The biggest challenge was sourcing enough Raspberry Pis to build the cluster: the tiny $35 computer sells out quickly after each batch is built. There are full details on rigging up two Pis into a block, and how to harness in a whole bunch, on the uni's website. El Reg notes this is not the first time Raspberry Pis have been cased in Lego.
Prof Cox said:
As soon as we were able to source sufficient Raspberry Pi computers we wanted to see if it was possible to link them together into a supercomputer. We installed and built all of the necessary software on the Pi starting from a standard Debian Wheezy system image and we have published a guide so you can build your own supercomputer.
It's not in danger of threatening IBM's Sequoia beast, the world's most powerful supercomputer, which delivers 16.32 petaflops of sustained performance running across 1,570,000 PowerPC cores. ®