Australian tabloid newspaper The Daily Telegraph has started a campaign to "Stop the trolls".
The campaign's roots lie in recent incidents that saw a reality television hostess' Twitter account subjected to ridicule and a Rugby League footballer's account receive vile comments about his recently-deceased mother.
The footballer struck back, threatening to "rip the balls off" the troll, followed by a call to Australia's Prime Minister to do something about trolls. That call saw the Premier of the State of New South Wales weigh in, agreeing that trolls must be stopped.
Things then snowballed as reports emerged the Prime Minister had granted the footballer an audience to discuss the troll menace, an odd gesture but one that makes sense given current debate in Australia about links between online bullying and youth suicide.
All of which explains why the Telegraph gave over its front page, depicted below and helpfully parsed by Twtter user HyperBrendan, to its new Stop the Trolls campaign.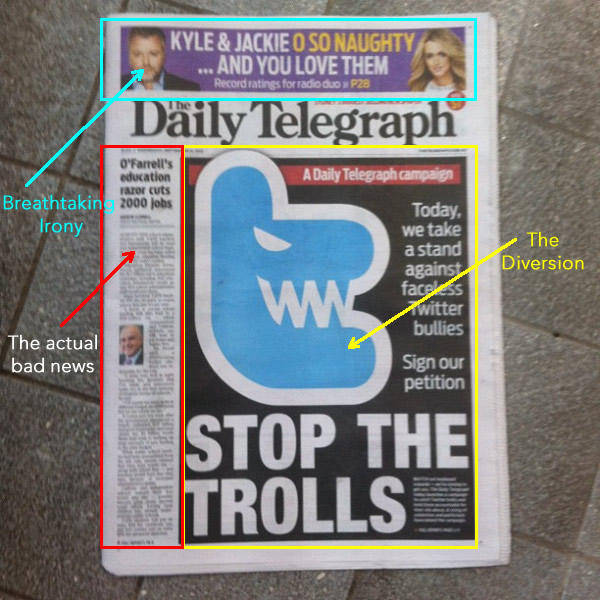 Australia's Daily Telegraph and the cover it used to launch its Stop the Trolls campaign
The story includes Australia's Communications Minister Steven Conroy declaring he believes "Twitter may think they're above Australian laws and they clearly think they're above American laws, but ultimately good corporate citizens do not behave this way."
He's said similar things about Facebook in the past, calling for it to have local representatives who can act quickly to remove hate speech from the site.
All of which sounds very sensible, until you consider the teaser at the top of the front page.
The "Kyle and Jackie O" referred to are a breakfast radio duo that has twice been censured for, well, trolling. Kyle, the man, recently carpeted a critic who had the temerity to call one of his TV shows dull with the following attack:
Your hair's very '90s. And your blouse. You haven't got that much titty to be having that low cut a blouse. Watch your mouth or I'll hunt you down.
Kyle has also been massively insensitive on air towards a teenage rape victim and suggested a less-than-swan-like actress could lose a lot of weight in a concentration camp.
All of which made the Telegraph look a little odd, stopping trolls with its main story but celebrating them in another ... on the same page.
Throw in the fact that the paper employs a roster of what have come to be called "Trollumnists", thanks to their always-controversial and click-inducing output, and Stop the Trolls campaign looked rather odd.
But just when you thought this couldn't get any weirder, it did.
First a keen-eyed PR person dredged up an old tweet from the footballer suggesting a noose would be an appropriate birthday present for Prime Minister Julia Gillard. The footballer has since apologised.
The Prime Minster, for her part, has said she never agreed to meet the footballer and cannot imagine where the story came from.
Politicians of all stripes have weighed in. Former Prime Minister Kevin Rudd has declared "The time has come for us to build a bridge over the trolls." The Australian Greens have declared government support for the campaign "craven support of News Limited".
There's now talk of new anti-troll laws which would of course be unworkable. It's also worth noting that Australia has had a law on its books for over a decade preventing its citizens from accessing gambling websites. It's not generated a single prosecution.
Twitter has, of course, exploded.
Wiser heads on that website have pointed out that the best way to stop trolls is not to feed them. Feel free to follow that advice in the comments. ®
Similar topics