UK govt to KILL OFF Directgov within weeks
Replacement GOV.UK nearly ready for showtime
---
New Labour's Directgov is about to be tossed into the rubbish bin, after it was revealed today that Britain's public services website would be replaced by the Cabinet Office's single government domain on 17 October.
That project, dubbed GOV.UK, surfaced into public view in May 2011 when Francis Maude's department initially coughed up £261,000 on the development of the post-Directgov site.
Since then, a small group of coders - led by Tom Loosemore - have morphed into a big team called Government Digital Service (GDS), whose offices are based in Kingsway, London's Aviation House. And the budget, too, has ballooned.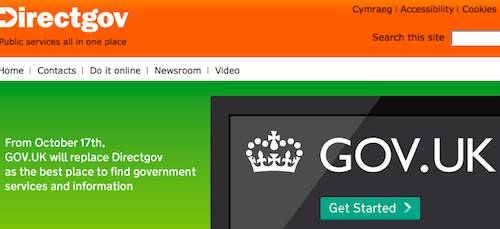 Directgov's death warrant confirmed
Maude told MPs in July this year that the current cost to the public purse of GOV.UK for 2011/2012 stood at £4.6m. He added that the most recent budget for Directgov - which obviously has been a live site used by millions of Brits needing access to public services online - was £21m as of the 2010/2011 period.
"Moving departmental websites onto GOV.UK will, in due course, realise significant savings for the taxpayer," the Cabinet minister has claimed.
That shift is now about to become a reality. Although, sadly the Cabinet Office isn't making a huge song-and-dance about the soon-to-be-dead Directgov, which launched in April 2004.
Nor is it responding to The Register's questions about what will happen to any remaining staff still working on Directgov.
GOV.UK, meanwhile, is expected to prettify the whole experience of using public services online by behaving a lot more like Google's search engine. Buzzwords haven't been lost on the GDS team, either: this thing is "agile", "open... where possible" and it's hosted in the cloud. And many of the ideas for the site started life on a simple post-it note.
The Cabinet Office has also been busily working on a so-called ID assurance scheme to farm out the handling of identity credentials online to the private sector. It's a project likely to eventually need primary legislation but is also expected to serve as the beating heart of GOV.UK. The current Microsoft-developed Government Gateway logon service created for Directgov is also being killed off. ®