The UK government has showered venture capitalists with £200m of taxpayers' money for high-risk investments, the science and universities minister David Willetts told MPs today.
Willetts said £50m of this cash has already been set aside as an angel investment pot. "For the first time, we've said we'll co-invest," he said.
Altogether, more than £1bn has been directed towards the venture-capitalist industry, according to Capital for Enterprise (CfEL), the fund established in 2008 that's wholly owned by the government's Department for Business, Innovation and Skills.
Willetts' £200m refers to a portion of this: the ECFs or Enterprise Capital Funds, which make investments in small and medium businesses.
Willetts was being grilled by the House of Commons Select Science and Technology Committee, which is conducting an inquiry into innovation, and how ideas can be commercialised.
Earlier witnesses to the committee have included inventor and entrepreneur James Dyson. He said the escalation of tuition fees may deter prospective engineering graduates from higher education – something Willetts refuted. Dyson had also called for clarity over patents, with the enforcement process made simpler and stronger. Here Willetts didn't have such a strong story – he mentioned Patent County Courts, but couldn't give a specific progress update, and mentioned the IPO's arbitration procedures.
"We have tried to make our departmental responsibilities a little easier," he told MPs, which sounds like he's keen to wash his hands of it altogether.
The introduction of punitive damages for patents may help tackle infringement, deterring opportunistic copycats from chancing their luck in expensive court cases. Last week Dyson wrote in the FT that inconsistent court rulings were bad news for inventors, as they increased the risk. MPs enquired whether Willetts had a view. He didn't appear to be up to speed. Ian Hargreaves' "Google Review" had done little to address this.
"We're believers of innovation," said Willetts, resurrecting the New Labour buzzword that's spawned an army of jargon-touting consultants.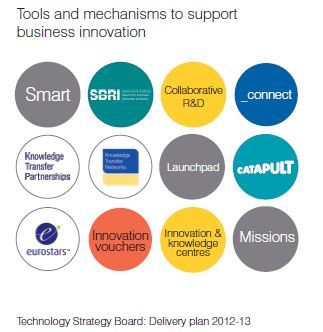 The TSB: jargon rich
Two-and-a-half a years into the Coalition, most of Labour's interventionist policies remain intact. Gordon Brown's Technology Strategy Board quango, which styles itself "the UK's innovation agency", has a £390m budget this year.
Yet the most promising is a fillip to the patent system. The "patent box" allows profits derived from patents to be taxed at a 10 per cent rate, and it was introduced in the 2012 budget. It hasn't come into effect yet, but it's very good news for companies such as Cambridge-based ARM.
Bong logic
Venture capital traditionally draws money from high-worth individuals and directs it to long-term, high-risk ventures. Most ventures fail.
The Conservatives' enthusiasm for throwing taxpayers' money at such speculative investments is curious, as it echoes the free spending Labour administrations. Conservatives traditionally only support state intervention in cases of market failure. Yet there's no indication that the wholesale venture capital market is failing - there are always more bad ideas than there is funding for them.
It logically follows, therefore, that the taxpayer is providing a subsidy for bad ideas. It may be the oddest use of public funds ever made by a Conservative minister. ®