This article is more than 1 year old
Ding dong, the Ping is dead! Apple brings in Facebook for iTunes
Whether you Like it or not... bitch
Apple has quietly done away with Ping, its music-based social network in iTunes. The move came as Facebook CEO Mark Zuckerberg took to the stage at the iPhone 5 launch last night, and announced all the ways his website will integrate with the latest version of Apple's music'n'vids software.
It's an admission that Apple hasn't done particularly well on the social side of things - but that it needs the help, primarily to flog iThings.
Facebook has been embedded deep in the new iTunes - rolling out in October - bringing in the option to "Like" and "Share" every item in the store. Facebook logins to iTunes will be sought and saved and each album, song, app and book can be sent out to your lucky social network. So if you've forgotten to sign out of the social platform, with a mere slip of a mouse-click, you can quickly become the laughing stock among all your "Friends" when your Barry Manilow habit is exposed.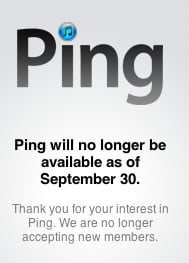 Ping is dead
For Apple, the Facebook integration is a step towards solving the app tsunami problem - where only several of the store's 700,000 apps can be showcased on iTunes front page at any given time. For app developers, it brings much needed new publicity avenues, avoiding a permanent half-life in the shadows of iTunes.
And for Facebook? Well it brings a little more content into the social network. And Zuck popping up on the stage with the iPhone 5 seems to have improved Facebook's share prices, at least.
Apple's previous attempt at social was iTunes-based Ping. Launched by Steve Jobs in September 2010, it will be permanently taken offline on 30 September. The music-based social network allowed you to see what music your Ping friends were listening to and commenting on, and generously allowed you the opportunity to buy that music. It was widely considered a failure.
Apple has also tarted up the user interface in iTunes, stripping back the design to make products stand out more.
Another Facebook integration move is allowing users to update their Facebook status using voice assistant Siri – which is bound to result in disastrous mishearings and ludicrous nonsensical rambles. Prepare for Tumblr blogs dedicated to the form.
Automatic content pushing will ramp up traffic through iCloud
Other changes to iTunes announced yesterday will channel much heavier traffic through iCloud. We can expect that new data centre in Maiden will be churning its eco-friendly wind turbines harder from trying to keep up with the new amounts of data being pumped backwards and forwards.
Content syncing, which used to be manual, is now automatic. Songs, apps and eBooks you buy on one iDevice will now automatically download to every iDevice you own.
And it's not just the item – it's also your interaction history with it – a song paused on one device can be picked up on another at the same point you stopped it. Books downloaded and read on iBooks on iPad will open at the right page on iPhone.
And then every photo you take your iPhone will be automatically pushed to your iPad and MacBook - careful with that one if you have a family iPad. Safari bookmarks and "read later" tabs can be synced between devices, and iDevices will also automatically sync mail, calendar and notes changes.
By default, most of this content hoiking will be done when the devices are in Wi-Fi range, though you can set music to push out over cellular networks. All of these push-content options that can be turned off. As before iCloud offers users a free 5GB of iCloud storage while asking them to stump up for extra to but purchases of music, movies, apps, books, and TV shows as well as Photo Stream are all excluded from that 5GB.
Changes to the way iCloud interacts with iTunes may seem like insignificant e-shop tweaks, but in some ways this is Apple's attempt to grab some market share from Amazon, one of its doughtiest potential rivals. A space worth watching. ®