This article is more than 1 year old
One more try: Metro apps are now 'Windows Store' apps
Microsoft really means it this time
Another week, another chapter in what must be one of the worst branding and marketing disasters in the history of computing: what to call the blocky, touch-centric apps designed for the new Windows 8 Start Screen, formerly known as Metro-style apps.
What we are meant to call them from now on, it seems, are "Windows Store" apps. And although El Reg has heard whispers of other nomenclature in the past, this time the new term seems likely to stick, as even Microsoft's partners have started using it.
In our last episode, Microsoft appeared to be leaning toward "Modern" as the replacement for Metro, and a few Redmond websites already seemed to be doing a bit of cut-and-paste to insert the new term.
Not so, says S. Somasegar, corporate VP of Microsoft's developer division. Redmond-watcher Mary Jo Foley had a chat with Somasegar ahead of Wednesday's Visual Studio 2012 launch event, and he told her that Microsoft sees "Modern" as merely "a sweeping term that mean apps that work on connected devices and make use of continuous services."
Before "Modern", we were told that the new-style apps were to be called "Windows 8 Apps," which was a silly idea, because of course Windows 8 runs traditional, meat-and-potatoes Windows software in addition to the trinkets for the Start Screen.
None of this was official, of course. Ever since Redmond dropped the Metro name, claiming it was never anything more than a code name for use by developers, customers, and the media alike have been left wondering just how to talk about Windows 8's new app paradigm.
The way to do it, as Somasegar now says, is to refer to Start Screen software as Windows Store apps. That's how he referred to them in his Visual Studio 2012 launch keynote on Wednesday, and the same term showed up at various technical sessions during the Intel Developer Forum conference in San Francisco this week.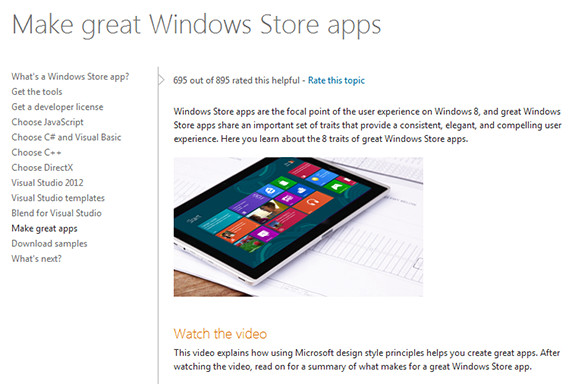 Remember, everyone: It was never called anything else
Microsoft seems to have revved up its web editors to full speed to get its various sites up to date. A search for "Windows Store apps" at Microsoft.com now returns more than 270,000 hits.
Your long-suffering Reg hack can't be the only one who will breathe a sigh of relief if this sordid saga is finally drawing to a close. ®